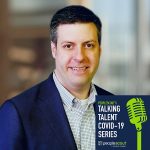 As organisations around the globe confront the challenges presented by the coronavirus (COVID-19) outbreak, even the most seasoned talent leaders find themselves in uncharted territory. We're creating a series with our experts here at PeopleScout about the issues that are most pressing during this uncertain time.
We are focused on the safety of our employees and clients, friends, families and loved ones. However, it is important for many organisations to keep their talent acquisition functions moving – whether to provide essential services or to serve our communities by providing jobs. Many organisations are also now adapting to a newly virtual workforce.
In that spirit, this podcast shares insights from PeopleScout Vice President of Technology Carter McHugh on best practices for using virtual talent solutions.
Carter brings more than 22 years of experience in building world-class software solutions for businesses and consumers. In his role at PeopleScout, his passion is creating a culture of technology excellence at a global scale and delighting customers with innovative software solutions that improve their people and business. Prior to joining PeopleScout, Carter held various executive technology roles at CSG International, a leading provider of enterprise revenue management and customer engagement solutions for the telecommunication industry.