As organizations continue to adjust to changes caused by the pandemic, access to skilled talent remains a key factor preventing them from accelerated recovery and growth. However, with work-from-home and hybrid models becoming the new norm, organizations have the unique opportunity to expand their talent network across borders. And, for workers looking to relocate for greater job prospects, crossing borders for work is becoming easier than ever for both employees and employers: According to Harvard Business Review, "Many countries have now put the legal framework in place to hire and relocate global talent at a cost and speed that is broadly comparable with hiring domestically."
Furthermore, in a 2021 survey by Boston Consulting Group and The Network, about 50% of respondents were either already working abroad or willing to move abroad for work. Moreover, 57% of respondents said they were willing to work remotely for an employer that didn't have a physical presence in their home country.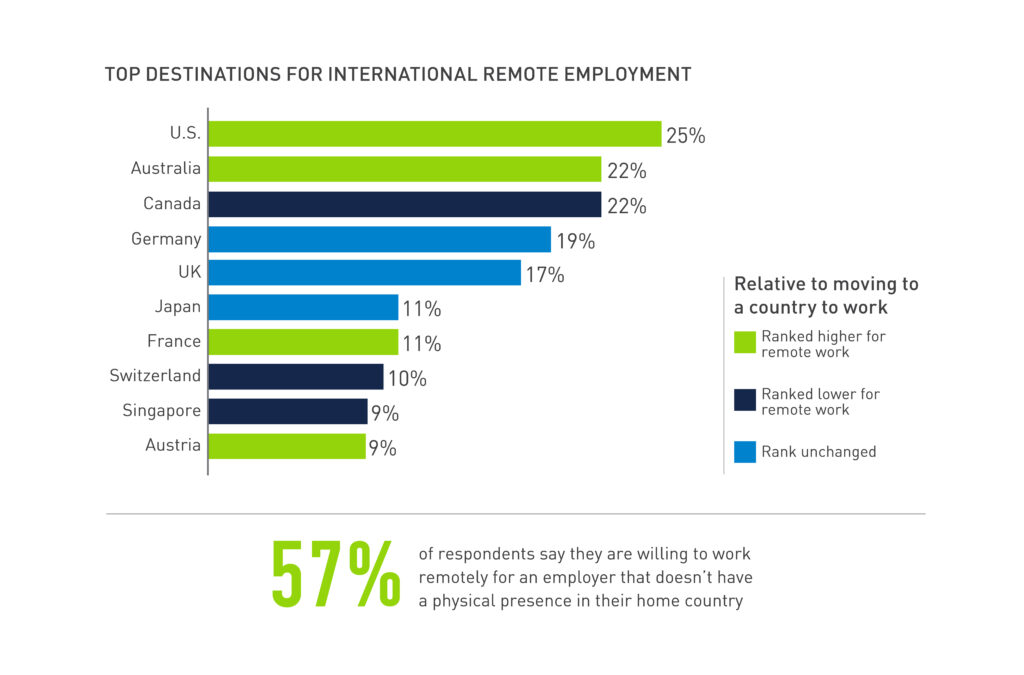 In this article, we'll share the benefits of a global talent program; highlight considerations to keep in mind; and offer strategies for attracting and recruiting talent around the world.
Benefits of Globally Dispersed Talent
The global talent pool is growing and ready to work—regardless of location—and it's up to employers to seize the moment. Consider the benefits of leveraging globally dispersed talent:
Expanded Talent Pool
Many organizations have been struggling to fill open roles because they're unable to find the talent they need in local searches. But, by expanding your search across borders, you can expand your search for the skills the role requires in a larger talent pool. Plus, you can also start these workers out in remote and contract roles to test whether they would be a good fit.
Greater Diversity
It's no secret that having a diverse team yields better business results due to high levels of creativity and innovation. Consequently, by hiring people from different geographies, you can tap into the knowledge of people from different backgrounds, cultures, educations and more.
Increased Reach
When operating in different regions, you have greater access to new markets, as your dispersed team can help build your brand recognition and reputation with new customer bases in their respective locations. Additionally, having teams across various regions may also enable you to expand your business hours so you can improve productivity and be available to customers no matter where they're located.
Cost Savings
Labor costs vary across countries, so it's often cost-effective to move certain business operations to countries with lower labor costs. For example, many companies offshore manufacturing, call center and IT operations to places like Mexico, India and the Philippines. Doing so lowers the cost of operations and, therefore, lowers the cost of products for the consumer.
And, because commercial real estate policies and prices vary from country to country, you can also reduce costs by implementing a remote work program in other countries before deciding whether a physical office space will be necessary in a given region.
Considerations for a Global Talent Management Program
Before diving into a global recruitment program, it's important to consider the key differences between recruiting in different countries. For instance, cultural nuances, policies and legislation will likely be different from your organization's primary country and can make or break the success of your global recruitment and employment strategy. Consider the following examples:
Workforce Planning
As you plan your hiring in new geographies, it's important to be aware of the length of the statutory notice period, as requirements vary widely from country to country and can make hiring timelines longer (up to three to six months, in some cases). For example, in the U.S., there's no legal requirement to provide notice, but it's customary for employees to give a two-week notice to aid in the transition. Conversely, in Japan, there's a fixed notice period of 30 days—regardless of the employee's years of service or seniority. In other countries, an employee's notice period depends on the terms of their employment contract and may be connected to the number of years of service to the company.
In places that require longer notice periods, candidate communications are even more essential in order to keep those candidates engaged and to set expectations on next steps. For this reason, incorporating transition timelines into your workforce planning is crucial so you don't reduce productivity while waiting for your new hire to start in their role.
Recruitment Marketing
Notably, if you're using the same recruitment marketing tactics in every country, you're missing a trick. Take social media, for example: Different networks work better in different markets. While LinkedIn, Facebook and Twitter are popular in the U.S., WeChat (a mobile app that focuses on messaging, social media and mobile payments) is heavily used in China. Similarly, XING and Viadeo are popular alternatives for career-oriented networking in Germany and France, respectively. So, understanding social media preferences in each country will help you promote your job ads in a more effective manner.
Granted, social media and digital advertising may not be the best fit for all roles in all places. In fact, even within a single country, there are nuances to consider. For instance, PeopleScout leveraged physical advertisements at bus stops in the smaller European cities where an RPO client in the manufacturing sector was hiring because we knew that it was less likely that blue-collar candidates in these areas would have internet access at home.
And, localization is key—not just in digital channel usage, but also in language and imagery. For example, while an image of a blonde-haired, blue-eyed worker would resonate in North America, the same type of image would not be as well-received by candidates in Asia. In addition, candidates in Europe are more likely to be multilingual, so testing recruitment marketing techniques in a few different languages might prove to be useful when recruiting in that geography.
Mobile-Friendly Candidate Experience
A mobile-first candidate experience is more important than ever. In the U.S., approximately 15% of adults are "smartphone-only" internet users, meaning that they access the internet only through their smartphone and don't have an internet connection at home. And, by 2025, nearly three-quarters (72.6%) of internet users—nearly 3.7 billion people worldwide—will access the web exclusively via smartphone.
Regardless of where they are in the world, your potential candidates are looking and applying for jobs via their mobile phones. So, consider how your recruitment tech stack supports a mobile-friendly application process to future-proof your global talent acquisition program.
Regulations & Compliance
Due to varying laws and regulations, recruitment processes can't be the same in every country, and it can be difficult for enterprises to navigate the requirements in each market. For example, in Sweden, you don't need to establish a legal entity to hire employees in the country, whereas you do in Singapore. Furthermore, statutory requirements for notice periods, probationary periods and permitted pre-employment checks all vary from country to country. In fact, in 22 countries, it's mandatory to organize a medical exam prior to hiring someone. In any case, it's imperative that you understand employment law in each country you're hiring in so you don't violate your new employees' rights.
Granted, the employment law landscape is constantly changing, making it increasingly difficult for multinational companies to stay compliant and avoid damages to the organization's finances and reputation. Fortunately, a global RPO partner can support you with global and local expertise to ensure you stay on top of regulations in each country you're hiring in.
Strategies for Recruiting Globally Dispersed Talent
So, how can you overcome these challenges to realize the benefits of expanding your recruitment program to globally dispersed talent? Here are some actionable ideas to help you adjust your recruitment strategies:
Map Each Labor Market
Before you start recruiting in a new market, it's important to understand the lay of land. Specifically, delving into the talent landscape and competition in each area—not just your direct competitors, but any organization hiring for the roles or skill sets you're seeking—can inform your recruitment strategy and compensation packages. In this way, investing the time to map the labor market upfront is invaluable for creating a competitive advantage, especially when it comes to new geographies or remote workers. Then, armed with this data, you can create offers that reflect rates in the new hire's area and boost your acceptance rates in the meantime.
As an example, PeopleScout recently helped a manufacturing client recruit engineers in an area in the north of the Czech Republic, where the available talent pool for the skills they needed was low, but the competition was high. After completing a labor market analysis, we advised the team to expand their search area across the border to Poland (where the talent supply was larger) to find talent that would be willing to commute or relocate. By doing so, we were able to fill business-critical automation engineer roles that saved their productivity levels.
Adapt Your EVP to Your Audience
Your employer brand—an individual's perceptions and lived experiences of what it's like to work for your organization—helps you attract and retain the right people to help your organization succeed. According to Gartner, organizations that effectively deliver on their employer value proposition (EVP) can decrease annual employee turnover by 69%. And, in today's ultra-competitive, candidate-driven market, a strong employer brand can also help you stand out in a sea of job openings.
Specifically, companies that attract top talent will be those that have invested in developing messaging pillars that allow their employer brand to flex and resonate with talent audiences across the globe. For example, PeopleScout helped global law firm Linklaters revamp and tailor its employer brand to support hiring across 20 offices in Europe, North America and Asia-Pacific, while simultaneously boosting its Glassdoor scores and increasing global applications from female lawyers.
So, to truly understand your ideal candidate, do your homework for every position type in each market and adapt your brand messaging and attraction strategies accordingly. In particular, a candidate persona profile is a great way to capture each position's requirements, motivations and expectations so you can design your recruitment marketing content around messages that will truly resonate.
Invest in Your Recruitment Tech Stack
Investing in standardizing your recruitment technology across geographies offers a litany of ways not only to streamline the candidate experience, but also your internal program management efforts and reporting, as well.
Plus, nowadays, candidates expect a tech-enabled recruitment experience that enables them to search for jobs on the go—and a whopping 89% of candidates think mobile devices play a critical role in the job-hunting process. Therefore, looking for ways to make your application process more mobile-friendly—including leveraging "quick apply" features in your ATS—will pay off in application volumes.
What's more, hiring in new geographies or for remote workers will almost certainly involve virtual interviews. Thus, investing in a virtual hiring solution can help you hire the talent you need quickly and with a seamless candidate experience. Unlike typical video meeting tools, modern virtual interview tools offer options like on-demand phone interviews and text/SMS interviews, as well as live and pre-recorded video interviews.
However, one consideration to keep in mind when selecting technology for global recruitment is where the data will be stored and processed. Regulations (such as GDPR in Europe) limit the amount of data that can be processed in the U.S. So, look for tools that are SOC 2-certified, and assess any vendor's information on security policies, procedures and practices.
Put Your Global Talent Program in Action
If your organization is new to global talent acquisition or if you haven't expanded business operations very far, the considerations and strategies highlighted above can seem daunting. But, the good news is that a global RPO partner can be a valuable partner to help guide you through your global talent acquisition challenges. Moreover, with a wealth of knowledge and experience gained through working with clients spanning a variety of industries and countries, an RPO partner can also help you navigate the complex compliance and cultural issues that accompany a multi-country recruitment program.
So, what should you look for in a global RPO partner? Well, you'll see the greatest benefit from a provider that is able to offer a customizable solution that's flexible enough to support everything from your niche hires and short-term needs to your high-volume roles and full-cycle recruitment processes.
Learn more about how to find the right global RPO provider in our ebook, The Buyer's Guide to Global RPO.