The future of work is green. According to the United Nations, the global economy is undergoing a "greening," as industries like energy, transportation and construction adopt more sustainable practices. That process could create 24 million more jobs globally by 2030, putting workers with green skills in high demand.
However, supply has not kept up, even as the need for green skills spills into other industries like economics and finance, security, market and geopolitical analysis, communications, social sciences, and legal.
In this article, we'll explore the drivers for green jobs and the need for green skills, which green skills are in the highest demand and how employers can find and hire top green talent.
What are Green Jobs?
So, what qualifies as a "green job?" According to the International Labour Organisation, "Green jobs reduce the consumption of energy and raw materials, limit greenhouse gas emissions, minimise waste and pollution, protect and restore ecosystems, and enable enterprises and communities to adapt to climate change."
Demand for green skills is outpacing the supply. According to LinkedIn's Global Green Skills Report, between 2022 and 2023, job postings requiring at least one green skill rose 22.4% while the share of green talent in the workforce only grew 12.3%.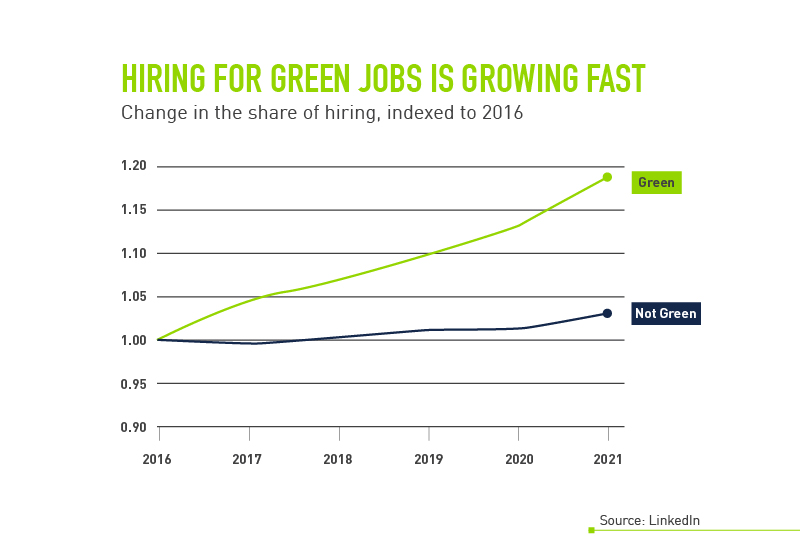 What's causing the shift? According to the World Economic Forum, many countries are working to achieve net zero by 2050. This means that both governments and businesses are driving the green transition.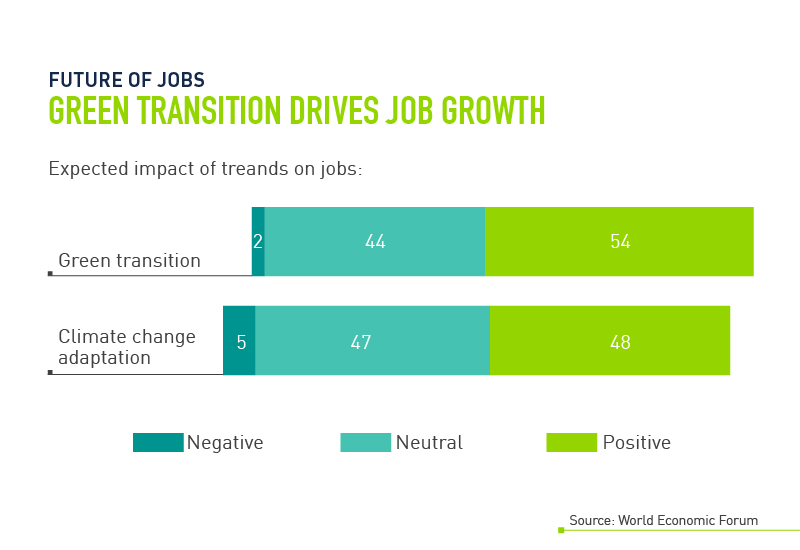 So far, the majority of green job growth has come in some of the highest polluting industries, such as energy and transportation, and in some of the countries that produce the most greenhouse gases.
The U.S., Germany and India, countries that emit some of the highest amounts of greenhouse gasses, are leading the way in green jobs. According to the World Economic Forum, Germany is adopting more green skills in the manufacturing industry, and the U.S. and India are outpacing other countries in both oil and gas and mining.

But the need for green jobs goes beyond installing solar panels and building electric vehicles. According to LinkedIn, one of the most important sectors in sustainability is finance, and it is lagging behind. In the fight against climate change, huge investments will need to be made in things like wind farms and electric vehicle charging stations, and financial professionals will be in the spotlight. Despite that, only 6.8% of finance workers globally have green skills. However, there are signs of change. Between 2021 and 2022, the percentage of green jobs in finance grew 17%.
With increasing competition for green talent, employers need to have an in-depth understanding of the most in-demand green skills and how to attract, hire and train top talent.
What are Green Skills?
It is easy to mistakenly associate certain green skills to specific industries. Unlike the ability to set a broken bone, which will qualify a worker for a job in healthcare but isn't relevant if they're applying for a role with a law firm, green skills are different. Think of green skills more like tech skills in their ability to be applied across a wide range of industries. For example, carbon accounting, or estimating the carbon footprint of different organisations, can play an important role in a variety of industries, from consulting to waste management. While there might be a concentration of workers with green skills in green industries, those skills are in demand across the global economy.
According to LinkedIn, the fastest growing green skill in the EU is climate action planning. A climate action plan is "a framework document for measuring, tracking and reducing greenhouse gas emissions, and adopting climate adaptation measures."
Climate action plans exist for a variety of organisations. For example, they exist at the government level, for international organisations like the World Bank, Fortune 500 companies and more. This means employers are competing for candidates across industries.
There are many green skills that are required for jobs in industries not considered green. For example, according to LinkedIn, a knowledge of energy efficiency could be necessary for roles like a plumbing engineer, utilities manager, vice president of facilities or HVAC specialist.
So, what are the most in demand green skills? It depends on where you are. In the U.S., carbon accounting, drinking water quality and energy engineering are seeing some of the fastest growth. While in the EU, sustainability education and carbon emissions round out the top three after climate action planning.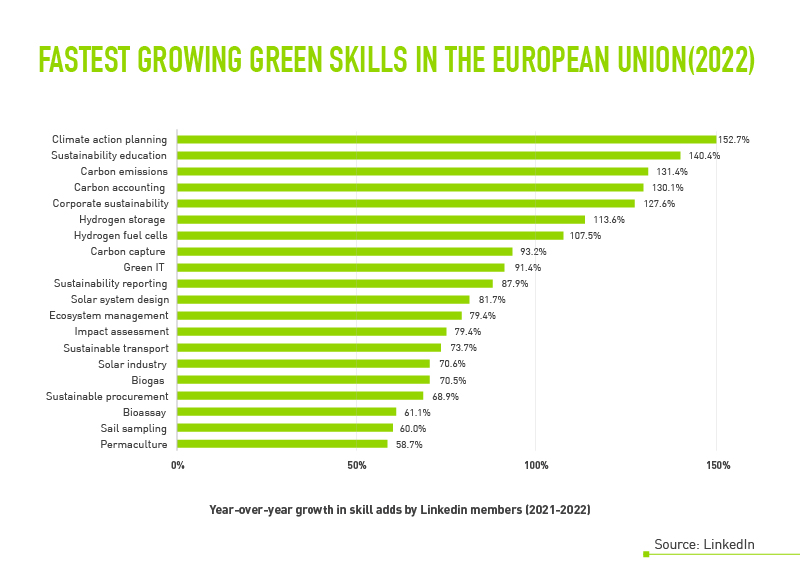 How to Hire for Green Skills
To meet their own hiring and sustainability goals, employers need to understand where to find candidates with in-demand green skills, how to attract them and how to train green-adjacent workers to help fill skills gaps. Here, we cover three options for employers struggling to fill green roles.
1. Skills-Based Hiring
Skills based hiring sounds simple—hiring people based on skills rather than previous job titles. However, according to SHRM, it requires a commitment to change. Traditionally, many jobs list requirements like specific degrees or years of experience that are used to determine if candidates are ready to take on a role.
According to one survey, more than 80% of employers believe they should prioritise skills over degrees. Yet, 52% are still hiring from degree programs because it's considered a less risky choice. This means that especially in entry- and mid-level roles, candidates with the right skills could be overlooked for failing to meet these specific requirements.
Research shows that adopting a skills-based hiring strategy can yield significant improvements to an organisation's talent acquisition program—increasing quality of hire, expanding the talent pool, increasing diversity and improving employee retention.  
Transitioning to a skills-based hiring process requires a culture change, a transformation in thinking from the top down—from senior leadership to hiring managers—and updates to many aspects of the recruitment process.
One of the most important steps is updating the screening or assessment process. Rather than eliminating candidates who lack certain degrees or years of experience, develop criteria and assessments that objectively measure the skills necessary for the job. Then, screen candidates in rather than screening them out. An RPO provider with talent advisory capabilities can assist organisations moving to a skills-based screening and assessment strategy. 
2. Green Adjacent Skills and Gateway Jobs
Additionally, employers can build gateway jobs and look for candidates with green adjacent skills.
Gateway jobs are roles that can serve as steppingstones and give workers the opportunity to gain the green skills they'll need for a green career. According to the LinkedIn report, one example of a gateway job is in supply chain management. As the industry looks to reduce its carbon emissions, workers are developing the green skills to do the job, even though they may not have had them when they were hired. In fact, 41% of workers who move into gateway jobs have no prior green experience.
An effective strategy for hiring candidates for these gateway roles is looking for green adjacent skills. These are skills that don't necessarily fall under the green umbrella but would give the candidate the ability to do many functions related to the role. For example, candidates with STEM and digital skills can go a long way toward helping an organisation reach its sustainability goals. Also, experience in industries currently undergoing a green transformation, like utilities, mining, transportation and agriculture can be applied to green jobs.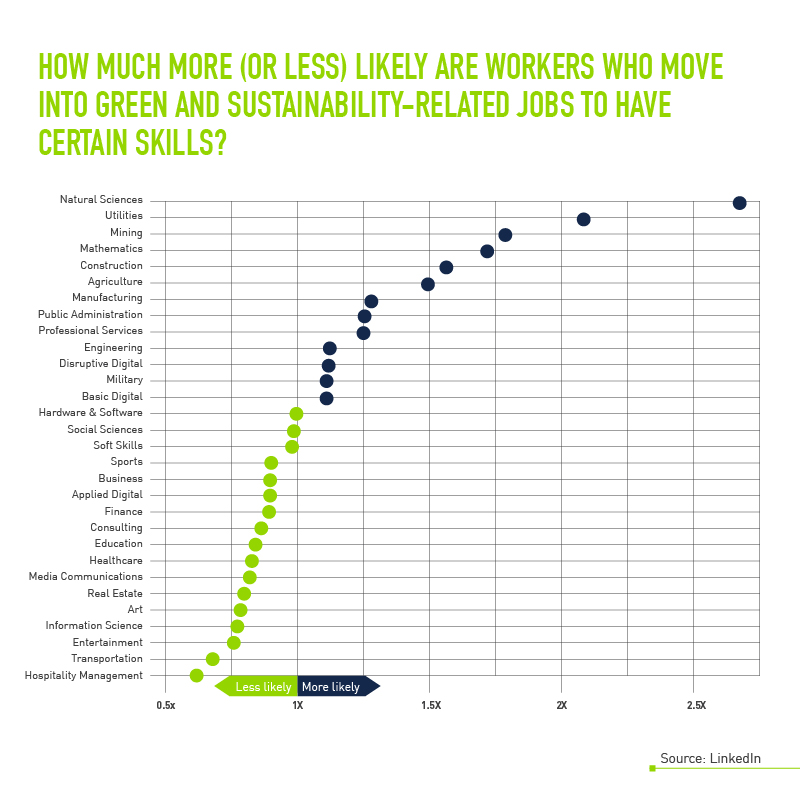 To find these candidates, employers need a robust souring strategy to identify those with adjacent skills. The right technology solution can identify both active and passive candidates with specific skills, expanding the talent pipeline and predicting factors such as cultural fit, willingness to change companies and future tenure potential. 
3. Reskilling and Upskilling
When hiring candidates with adjacent skills, employers must implement reskilling and upskilling programs to fill the skills gap.
According to the World Economic Forum, nearly half of young workers believe they don't have the right skillset to guarantee them an adequate job over the next decade. On top of that, sustainability transformations happen quickly, and without ongoing training, older workers could be left behind. The good news is that according to PwC, 77% of employees are ready to learn new skills or completely retrain in response to new technologies in the workplace.  
Reskilling and upskilling can happen at a few different levels, from government programs to higher education and private employers. However, organisations shouldn't just rely on external programs. By building effective reskilling programs, businesses invest in services tailored to developing their own workforce while also assisting the global need for more sustainable work.
A Renewable Future
Setting up a green, sustainable future is everyone's responsibility. As the demand for green skills increases, employers need effective solutions for finding, hiring and training top green talent. RPO providers, especially those with talent advisory services, can be a valuable resource for talent leaders looking to revamp their recruiting programs for a renewable future.
For more insights on green skills in the energy sector, download our ebook, The Recruitment Handbook for Energy and Utilities.