Australia's economy gained 39,900 jobs in November. The unemployment rate fell to 5.2% in November as labour participation remained steady. The Bureau of Statistics reports that full-time employment increased by 4,200 and part-time employment rose by 35,700.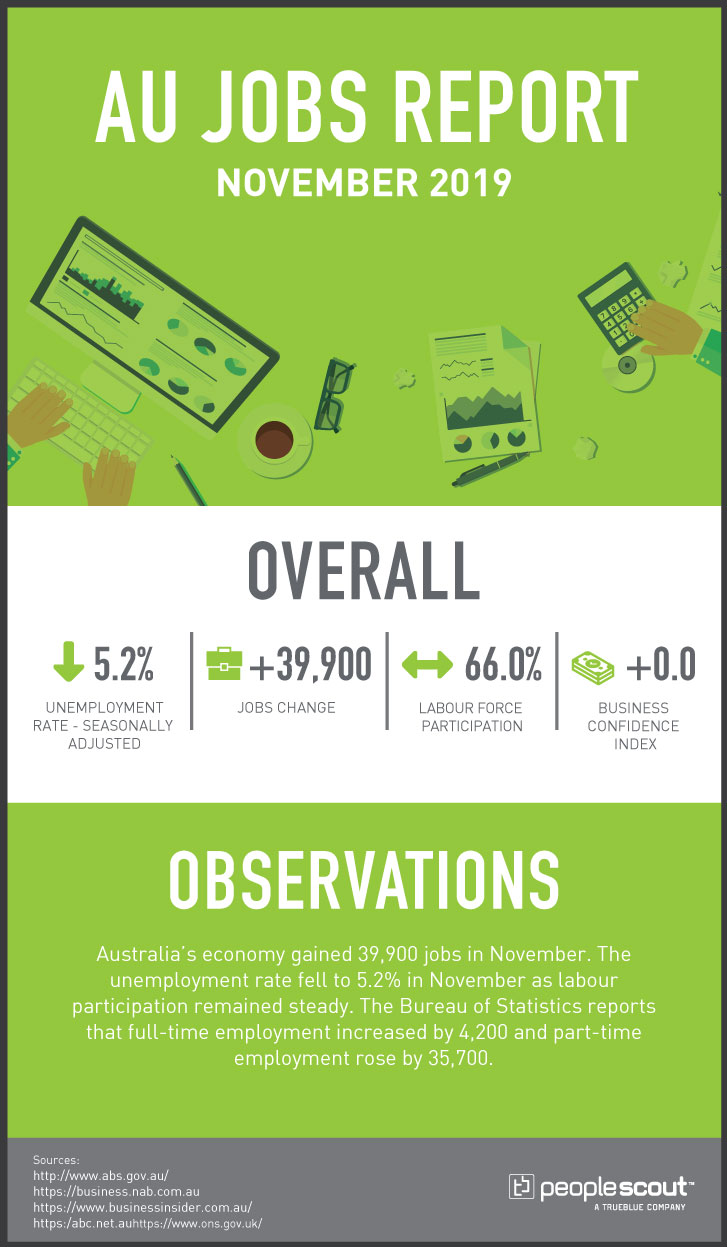 Numbers
+39,900: The Australian economy gained 39,900 jobs in November.
5.2%: Australian unemployment fell to 5.2%.
66.0%: Labour force participation was steady at 66.0%.
0: The Business Confidence Index fell to 0 in the latest NAB release.
Upside
The 39,900 jobs added in November were a welcome reversal of the job loss experienced in October. The number of unemployed Australians decreased by 16,800 to 708,100 people. Over the last year, full-time employment increased by 144,700, and part-time employment rose by 110,200. The job gains last month helped push the unemployment rate down one-tenth of a percentage point to 5.2%. While the participation rate remained stable at 66.0%, it is at a near record-high level. In another sign of progress, monthly hours worked in all jobs increased by 2.9 million hours in November.
In seasonally adjusted terms, the largest increases in employment were in Queensland (up 17,300) and Victoria (up 13,700). Some states also had jumps in their participation rates which indicates that more of their residents are being attracted into the workforce. The participation rate increased by 0.5% in Tasmania to 61.1%, 0.3% in Queensland to 66.2% (which is higher than the national rate) and in South Australia which grew by 0.2% to 62.9%.
Downside
Part-time job gains greatly outnumbered those in full-time employment. Only 4,200 full-time jobs were added compared to an increase of 35,700 in part-time work. The only job decrease was in New South Wales, the nation's largest state by population which shed 2,800 positions. The seasonally adjusted participation rate there also decreased by 0.2%, falling to 65.3%.
The modest reversal in job growth has not inspired many economists to express optimism regarding Australia's near-term economic outlook with some predicting a rise in unemployment next year. Capital Economics analyst Marcel Thieliant pointed to the fall in employment advertising as a sign that November's job growth will likely be reversed: "The continued fall in job advertisements suggests that unemployment will climb further," he predicted. "What's more, households' unemployment expectations are consistent with the unemployment rate rising to 5.5% by mid-2020."
His sentiment was echoed by others including Indeed's economist Callam Pickering who noted that the Australian labour market is showing "signs of fatigue" with an unemployment rate that has been continuously higher than the 4.9% level posted in early 2019.
Closing the Skills Gap: Implications for Employers
While some economists are expressing concern over future job growth, many Australian workers appear to be concerned that they do not have the right skills to succeed in the jobs that will be available. A recent study by Centre for the New Workforce at Swinburne University of Technology, in partnership with YouGov, sought to reveal how Australian workers are preparing for the future of work which includes factors like digital transformation, artificial intelligence and automation. Their findings include:
61% of Australian workers don't think that their current skill set is suited for the next five years of work. This is a jump from 56% in just one year.
Key motivators for Australian workers include learning more and being stimulated by their work. In response to what inspires them most about their jobs 46% selected 'the nature of the work itself' and 34% chose 'opportunity to learn and grow.'
For the main barriers to learning at work, 56% responded 'not having dedicated time for learning' and 39% cited 'unsupportive working environment where learning is stigmatised.'
51% of Australian workers spend less than one hour a week at work on learning in any form which includes 20% who state that they have no learning at all on their jobs.
The results of the study show that Australian workers are both concerned about their skill levels meeting future demand and not having the time or supportive environment to acquire the skills that will help them succeed. In order to retain their valuable workforce, employers should effectively communicate the learning opportunities that are currently available and develop these programs to include the skills that are anticipated to be needed in the future. It is also important to structure the work environment and scheduling to support continuous and effective learning. A successful learning programme can also be an important tool in attracting talent and can be featured as part of a sourcing effort and building an employer brand. Enterprises can effectively leverage their employee development and learning programmes to support retention and recruitment by partnering with a recruitment process outsourcer which can share its experience and expertise on how to maximize the impact of an enterprise's investment in the learning and growth of its workforce.