Australia's economy lost 19,000 jobs in October. The unemployment rate rose to 5.3% in October as labour participation slightly decreased. The Bureau of Statistics reports that full-time employment decreased by 10,300 and part-time employment fell by 8,700.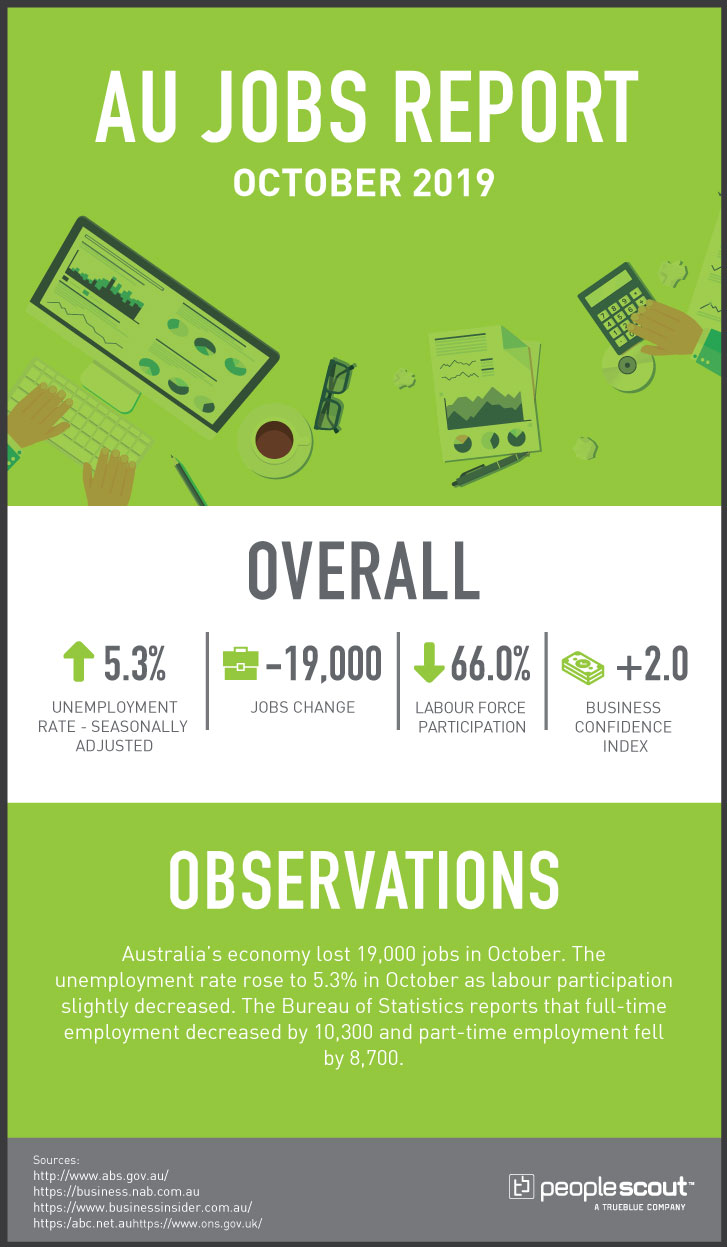 Numbers
-19,000: The Australian economy lost 19,000 jobs in October.
5.3%: The Australian unemployment rate rose to 5.3%.
66.0%: Labour force participation fell to 66.0%.
+2: The Business Confidence Index rose to +2 in the latest NAB release.
Upside
When viewed from a year-over-year basis, Australia's full-time employment increased by 135,700 while part-time employment increased by 116,100. Western Australia had 6,300 job gains and Victoria added 2,900 positions. Western Australia also increased its participation rate by 0.2 percentage points to 68.3%, two percentage points higher than the national rate.

Both business confidence and conditions improved slightly during October. Despite the below-average ratings, NAB Group's chief economist noted that there has been an uptick in both profitability and trading conditions. He also pointed to their survey which indicated that there would be ongoing employment demand of around 18,000 per month. However, that survey was completed before the release of the October report.

Downside
Australia had its sharpest job decrease in three years in October. The loss in both full-time and part-time employment suggests an overall softening of the job market. Nearly every state lost jobs including Queensland which lost 14,000, New South Wales with a decrease of 10,300 and South Australia which had a drop of 6,500 positions. With only Western Australia and Victoria posting notable job growth in October, the report can be viewed as essentially negative from a national perspective. The job losses were unexpected with some economists expecting a gain of 15,000 positions.

The number of those actively participating in the labour market also dropped, lowering the rate for a second month in a row. The underemployment rate which is a broader measure of joblessness increased by 0.2 percentage points to 8.5%. Seasonally adjusted monthly hours worked in all jobs decreased by 2.8 million hours (or 0.2%) in October.

Low Wage Growth: A Challenge and an Opportunity for Employers
The weak jobs report came just one day after the ABS released its disappointing quarterly wage figures. The wage price index rose by just 0.5% in the quarter ending in September which brought annual growth to a tepid 2.2%. This is the slowest growth level in more than a year and fell short of both the Reserve Bank and federal Treasury expectations.

One implication for Australian employers is that extended periods of low pay raises may lead valued employees to search for work elsewhere.

While there are many factors that lead Australians to look for a new job and find a job offer attractive, at least one study found that salary was the most important:

"When asked what attracted them most to a workplace, the study revealed that salary came out on top, with 30% of Australians listing this at the most important factor when searching for a role."

The slow wage growth being experienced throughout the country presents employers with both a dilemma and an opportunity. There is decreased competitive pressure to raise salaries and more good candidates may become available. To turn this situation to their advantage, some crucial questions arise. What is the correct wage level to best ensure employee retention? At the same time, what is the ideal pay package to attract talent that at least matches the offers from competitors and contributes to candidate acceptance? And how would a busy HR professional even begin to find the right answers to these questions?

There is useful information available, including data on wage ranges based on position descriptions, markets, education levels, years of experience and other factors. However, this data can be very expensive to purchase and time-consuming to review and interpret. In an economic environment in which many Australians may be motivated to search for their next job opportunity, an outside partner such as a recruitment process outsourcing company (RPO) can provide both the data and the analysis to that leads to solutions resulting in both keeping and attracting the right talent. Those enterprises that leverage both the knowledge and expertise brought by partnering with an RPO will have the tools to navigate a complex talent market and build a successful long-term talent strategy in an uncertain economic environment.