As employers face increasing competition for the best talent, a well-defined employer value proposition (EVP) and employer brand strategy have become more important than ever. In a candidate-driven market, employers need to stand out to their target talent audiences through a unified EVP and employer brand. High-quality candidates know what they want out of a future employer, and organisations that don't effectively show their value to candidates risk losing them to the competition.
If you google EVP and employer brand, you're likely to find thousands of definitions. At PeopleScout we define EVP and employer brand as the following:
Employer Brand: The perception and lived experiences of what it's like to work for your organisation.
Employer Value Proposition: Captures the essence of your uniqueness as an employer and the give and the get between you and your employees.
Both concepts revolve around the qualities that make a company a great place to work, as well as the benefits, career growth opportunities, work-life balance and company culture that attract top talent.
EVPs are particularly important in today's job market, as a majority of candidates heavily evaluate companies before they even consider applying for open positions, and it can be a critical differentiator in a company's ability to attract talent.
Key Elements of a Successful EVP
As HR Technologist explains, "An employee value proposition must be thoughtfully designed since it has a direct impact on behavior. It must look into the tangible and intangible elements of the psychological contracts between the employer and the employee. It must start way before the employee joins, even before the person is a job candidate; it must appeal to the person irrespective of whether the person intends to work with the organisation or not."
A successful EVP articulates the value that you offer to your employees. At PeopleScout, we establish three elements to support a successful EVP:
Pillars: Pillars are the core components of your EVP and are informed by insights into your cultural DNA and your audience's motivations. Pillars are used to define the relevance of your EVP and are based on research.
Narrative: The narrative is usually a single, manifesto-style paragraph – it's the emotive "sell" of what you offer. The narrative defines consistency throughout your EVP and employer brand strategies.
Strapline: Finally, the strapline is a concise phrase that summarises your overall offering – it focuses on being memorable rather than detailed. The strapline defines a point of focus throughout your EVP materials.
By creating pillars, a narrative and a strapline to support your EVP and employer brand strategy, employers will be set up for a successful deployment both internally to current employees and externally to candidates and the broader marketplace.
For example, we recently completed an EVP and employer brand project for a global law firm based in the UK called Linklaters. Here are the pillars, narrative and strapline that we created to bring the project to life.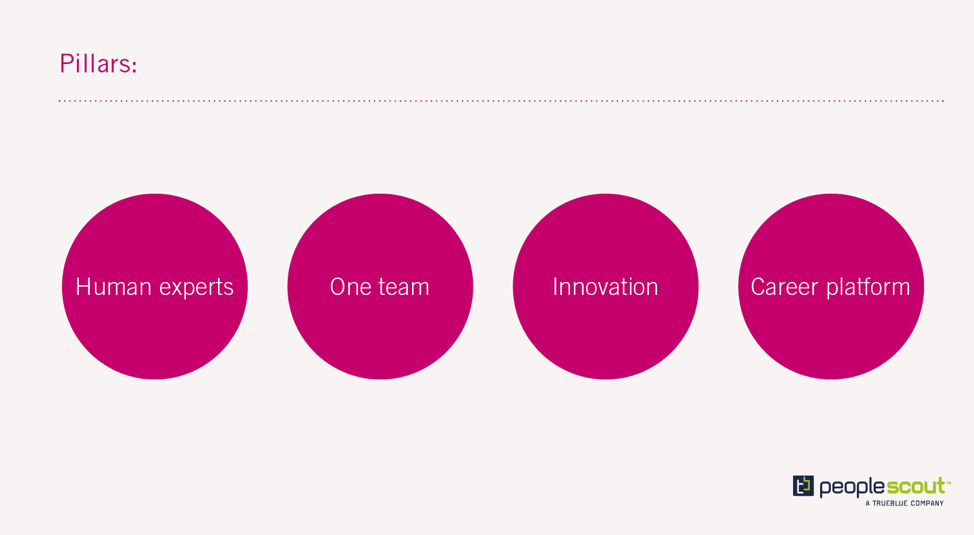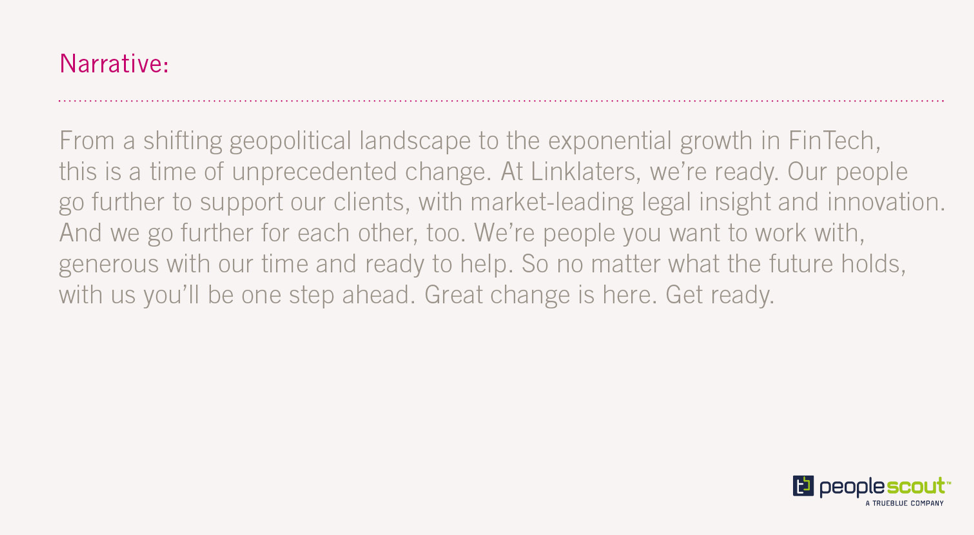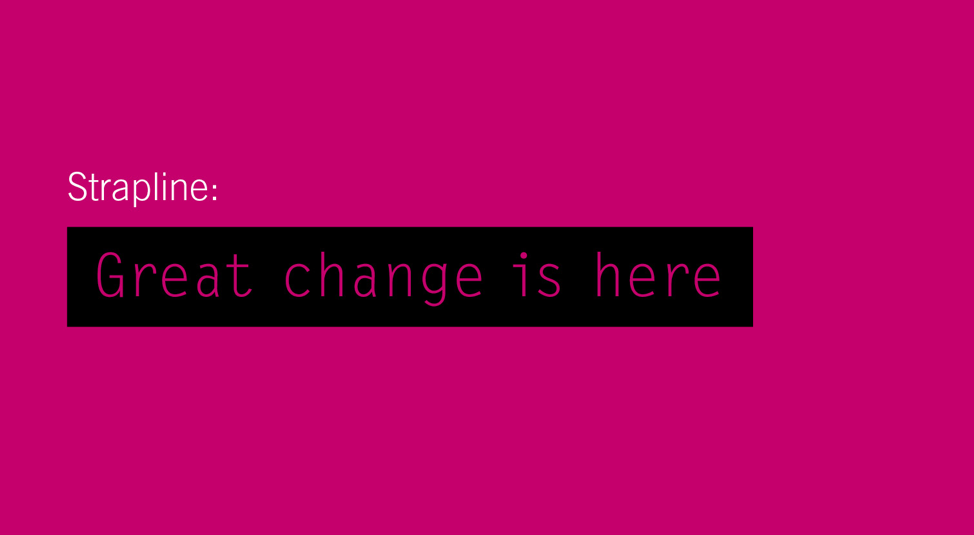 Benefits of a Well-Managed Employer Value Proposition and Employer Brand Platform
Organisations that effectively deliver on their EVP can enjoy a host of benefits, including decreased annual employee turnover and increased new hire commitment, according to Gartner research. Other benefits include improved brand sentiment, increased reach to target audiences, a greater sense of commitment from current employees and cost savings related to compensation.
Improved Brand Sentiment
Organisations with effective EVPs are more attractive to candidates and are considered employers of choice – organisations where candidates want to work. In order to make yourself an employer of choice, you have to be able to appeal to your ideal candidates by differentiating your company from your competitors.
A compelling EVP and employer brand can move your brand sentiment in a positive direction. A clearly defined EVP creates the foundation on which to build your internal and external employer brand messaging, which allows you to have greater influence over what you are known for and how you are perceived.
Increased Reach
A thoroughly researched and tested EVP is designed to speak more effectively to your target talent audiences. When you are able to tailor the core of your message to individual audiences, while keeping your narrative and strapline consistent throughout, more diverse groups of candidates will respond favorably. This has real business impact. According to a Morgan Stanley study in The Atlantic, there is a positive relationship between equity returns and the gender composition of an organization's employee base, as an example.
We work with an organisation in the UK that was once an online automobile magazine but is now a digital publication. The organisation struggled with brand perception. Many candidates thought the company was old-fashioned, and they struggled to attract women to their open positions. We developed an "adventures in awesomeness" EVP that spoke to the digital transformation that had already happened at the employer. This EVP not only increased brand attractiveness and shifted sentiment, but also increased the number of women visiting the careers site by 300 percent.
Greater Employee Commitment
Organisations with strong EVPs enjoy significantly higher levels of engagement from employees. In one example studied by Cornell University, a beverage bottling and distribution company launched an initiative to develop an integrated employer brand. Around the same time, the company decreased headcount by more than 6 percent and maintained tight control over salary raises. Despite these difficulties, employee engagement grew at the company from 36 percent to 55 percent over a five-year period.
This study suggests that when you clearly articulate your EVP and the behaviors you're looking for from employees, it can be a factor in successfully attracting and retaining employees with the right cultural fit for your organisation. This yields more engaged employees.
Compensation Savings
Organisations with effective EVPs are able to reduce the compensation premium required to attract new candidates. Another example highlighted in the Cornell paper found that organizations with a well-managed employer brand had a 26 percent economic advantage in terms of labor cost.
Key Considerations When Creating an EVP and Employer Brand Program
There is ample data that shows that effective EVPs generate real business benefits. To realise those benefits, there is a lot of work that goes into creating a successful EVP and employer brand. Before launching an EVP internally or externally, it's critical that companies spend time researching, defining, developing, optimising and deploying an EVP that accurately represents the company's value to employees.