So far, 2023 has proven to be a year of contradictions, making workforce trends hard to pin down. The labour market is cooling, yet unemployment remains low. Despite the slowdown in some industries, others like healthcare and hospitality are still tight. Overall, job openings are still higher than pre-pandemic levels in most countries.
Despite layoffs and economic fluctuation, 46% of talent leaders say recruitment is a priority in 2023 according to Gartner. Plus, 50% of organisations still expect the competition for talent to increase significantly in the next six months, regardless of broader macroeconomic conditions. Employers seem to be taking a more measured approach to recruitment and "right-sizing" their workforce.
This means recruiting leaders must reprioritise recruiting strategies to align with current business needs, plan for multiple potential scenarios in this shifting market, and make decisions with great confidence using data. Despite a projected increase in the unemployment rate, organisations still face recruitment and retention challenges that affect business productivity.
To help employers succeed in their recruitment efforts, we take a look at the top seven workforce trends to watch for in 2023.
1. Closing Skills Gaps
According to Gartner, 64% of managers don't think their employees are able to keep pace with future skill needs. A third (36%) of HR leaders say their sourcing strategies are insufficient for finding the skills they need.
With the rate of technological advancements, more and more employers are exploring ways to reskill and upskill their existing employees to create an agile and adaptive workforce for the future. Business leaders surveyed in 2022 for the World Economic Forum's Future of Jobs report said that about 40% of their workforce will require reskilling in the near future. LinkedIn's 2022 Global Talent Trends report reveals that upskilling and reskilling are top priorities for today's workers.
Organisations that invest in training for their workforce see greater employee retention. Companies that excel at internal mobility are more likely to retain employees. Shifting job requirements and an uncertain job market along with rapidly changing technology have left people feeling unprepared for their next career move and in need of additional support. In fact, 70% of employees say they haven't even mastered the skills they need for their jobs today according to Gartner. Upskilling and reskilling opportunities help employees feel more confident in their roles as well as in their future with your company. Adding these opportunities will enable you to adapt and thrive under any circumstances.
2. Offering More Flexibility
In the wake of the acceleration of remote work, many employees are voluntarily quitting because of concerns about workplace flexibility, according to a 2022 survey conducted by business review website GoodFirms. The survey found that 70% of HR manager respondents pointed to flexibility as a reason for resignations, which is why many companies are making flexibility and work/life balance part of their workforce planning. In our own recent research report, Inside the Candidate Experience, surveyed candidates said that flexibility and work/life balance was the top consideration when evaluating a company.
Yet, there is a disconnect between what workers want and what employers offer when it comes to remote work. While job postings on LinkedIn for remote work have dropped in many countries, workers are still applying for remote roles in droves.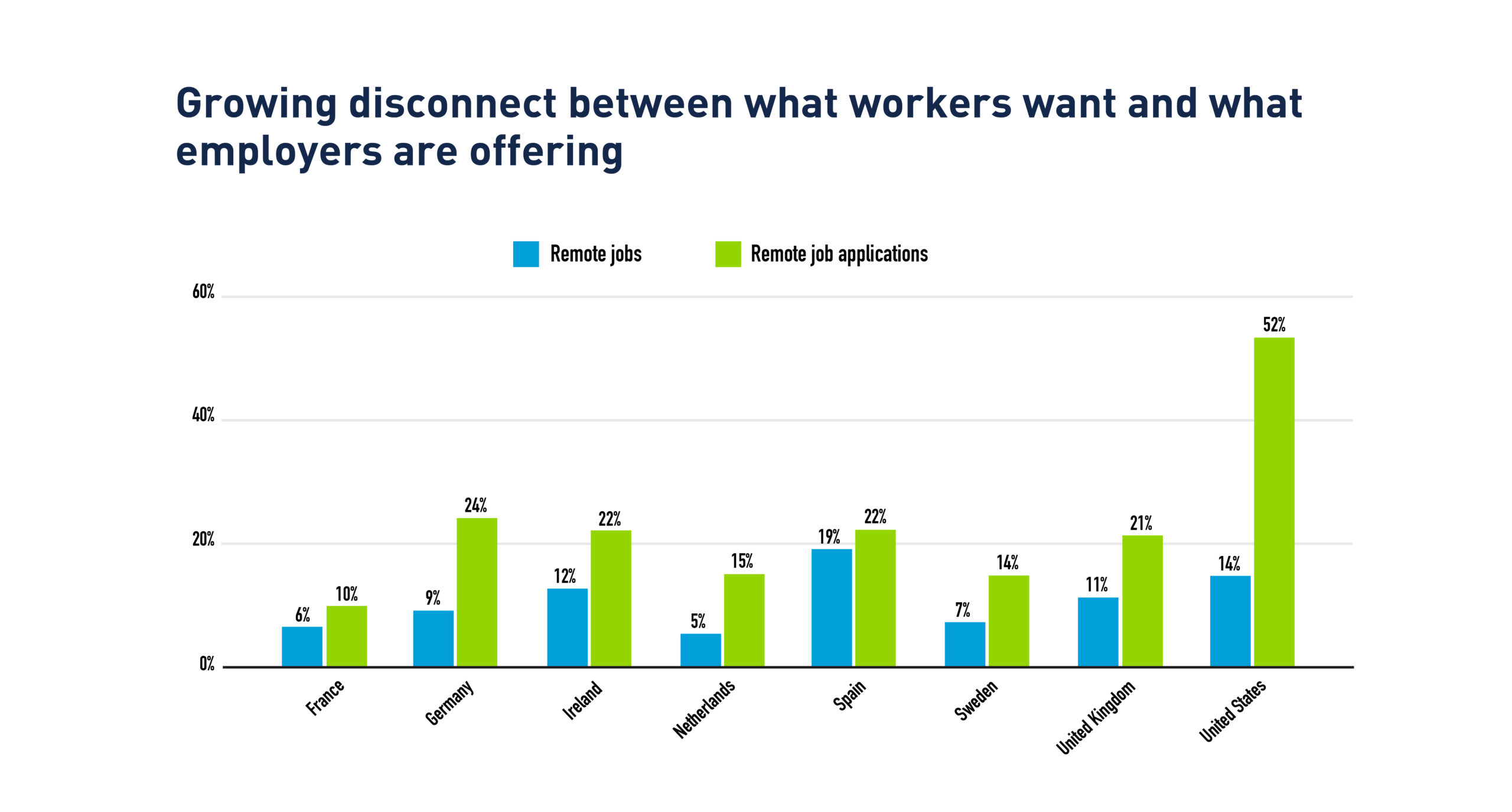 Organisations that rethink working patterns and adapt to candidate expectations will gain a significant edge over their competitors. Offering remote work, flexible hours, four-day work weeks, and job sharing may require significant workforce planning to ensure your organisation can maximise productivity while also keeping employees engaged. However, it's worth it for many organisations, especially those struggling to hire for critical roles.
3. Shifting to Contingent Workers
The desire for flexibility has not only changed when, where and how we work, but also the type of work we seek. The number of freelance workers in the U.S. has grown to a record 60 million as professionals have left full-time work to pursue short-term assignments and contract work.
Employers are making the shift as well. In the six months from May to November 2022, the share of paid job postings on LinkedIn for contract positions increased 26% compared to the same six-month period from the year before. With chronic skills shortages, organisations are clearly looking to contractors and freelancers to supplement their workforce strategy without the expense that comes with full-time employees. These workers can also offer the unique skills and experiences needed to complete specific projects and help fill roles during a leave of absence or while your company assesses future workforce needs.
4. Tapping into New Talent Pools
The labour market has shrunk due to the retirement of Baby Boomers—accelerated by the pandemic—but also because there are fewer people joining the workforce. Not only is the upcoming population smaller and not replacing the Boomers who are leaving the workforce, but one in 10 young people aged 18 to 24 say they never intend to work. Employers are having to work harder to appeal to disillusioned Gen Z-ers.
Meanwhile, talent acquisition leaders are looking to expand their talent pools to fill workforce gaps. D&I and social mobility efforts are focused on bringing in untapped talent groups. Plus, some organisations are looking to their existing employees to fill critical roles in other areas. We're currently helping a financial service organisation assess employees in their bank branches to find individuals with hidden aptitudes that can be trained as software engineers to support their web and app development initiatives.
In the wake of The Great Resignation, we're now seeing a rise in boomerang employees—workers who voluntarily resign from your company only to join again later. Workers who left due to extenuating personal circumstances—and even those who went to seek greener grass—can serve as a strong new talent pool and shouldn't be counted out. They'll come in with an understanding of the business and can get up and running quickly, often bringing along new skills or fresh perspectives that can propel your business forward.
Another group boomeranging is Baby Boomers as some call for The Great Unretirement. In the UK, over-50s make up 76% of the 830K people who left work during the pandemic. The Government's latest "back to work" budget rolled out a number of tactics to entice this age group back to work including a new "returnership" apprenticeship program. For employers to tap into this talent pool, they must offer flexibility through part-time and remote work.
5. Rallying Around the Mission
Environment, Social and Governance (ESG) are increasingly on the mind of HR leaders as employees and candidates are concerned with the ethical and sustainability impact of their employer. More than ever, candidates are searching for work they find meaningful and an employer that shares their values—especially the Millennial and Gen Z workforce.
Our research revealed that for 50% of candidates, an organisation's mission and purpose are a key influence on their decision to apply. Yet, when evaluating career sites, we found details on the mission or purpose of the organisation less than half (48%) of the time.
According to a study by Mercer, employers with high employee satisfaction and attractiveness scores have significantly higher ESG scores than their peers. HR leaders in particular are focused on the social elements of ESG including diversity, equity, and inclusion—and ensuring their workplace is an environment where everyone can be productive.
6. Prioritising Employee Well-Being
Burnout is still on the rise globally. In a recent poll from Gallup, 44% of employees revealed they experienced stress during much of the previous day. So, it's no surprise that 42% of the workforce is reporting burnout—an all-time high.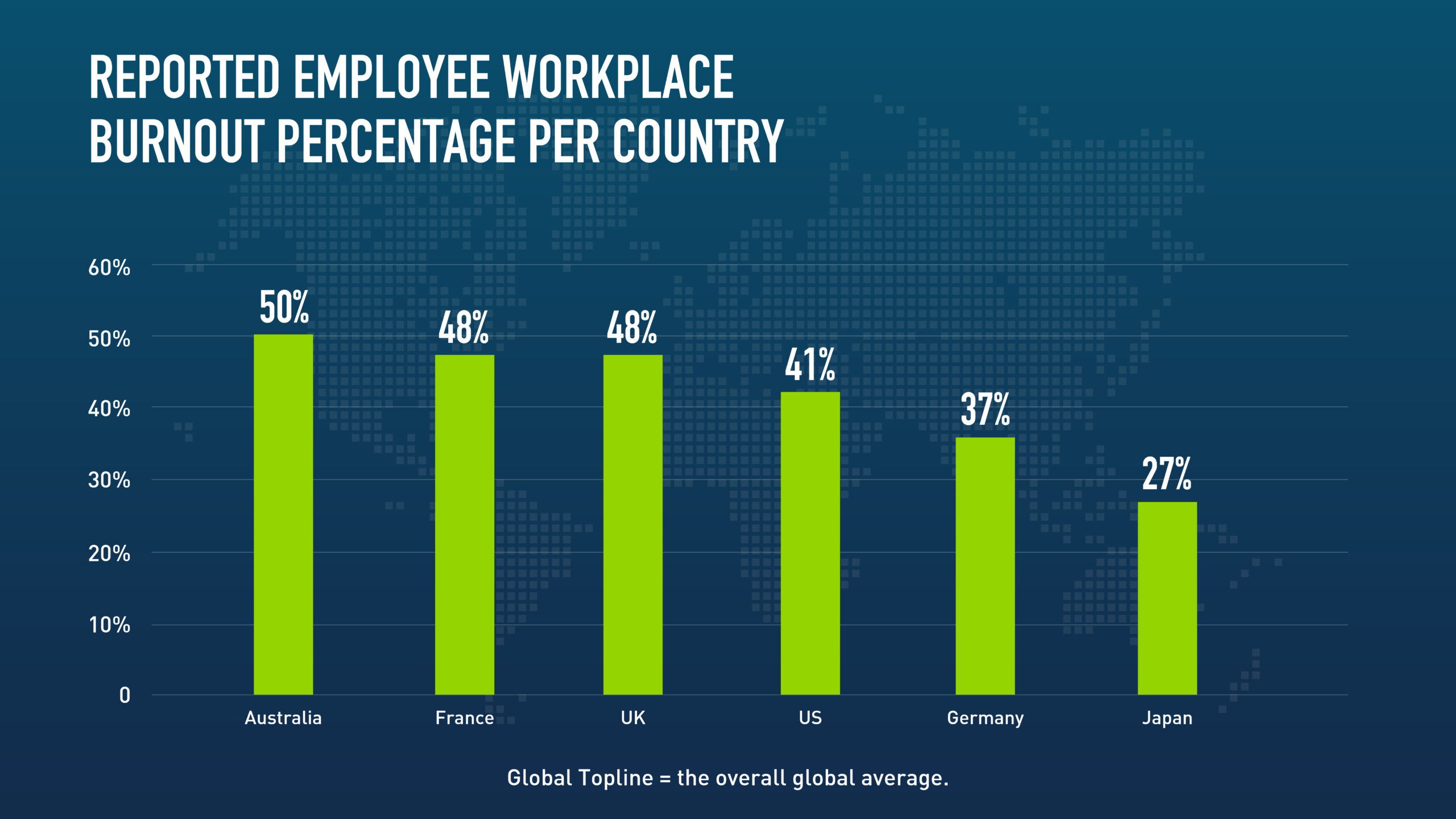 On top of that, in the UK alone, there are 2.2M people inactive in the workforce due to long-term sickness and disability. Moreover, the biggest rise in workforce inactivity since the pandemic due to illness has not been among 50 to 64-year-olds as one might expect, but among those aged between 18 and 24.
With so many people out of the workforce due to long-term illness and stress, employee well-being is becoming a top priority for many organisations, as they recognise the importance of supporting employee mental and physical health. In fact, 79% of employees are likely to stay at a company that offers high-quality mental health resources, and 67% of leaders cited improvement in productivity when mental health support is offered.
According to the World Health Organisation, anxiety and depression, two of the most common mental health conditions, cost the global economy $1 trillion (USD) each year.
7. Engaging Outside Talent Acquisition Solutions
While the current economic outlook may have some employers proceeding with caution, business leaders are optimistic about the future. In fact, 85% of leaders said they anticipate their revenue to increase year over year.
Meanwhile, 46% said that staffing would be their top operational challenge for the year ahead. With uncertainty looming, companies may need to reassess their recruitment efforts and create a more agile workforce to evolve for the future. Developing a more flexible model is more critical now than ever in a shifting workplace landscape.
Having trusted guidance at these crucial moments can make all the difference. A talent partner offers a variety of solutions to help organisations attract and hire the right candidates. Whether you're hiring full-time employees or need to supplement your contingent workforce for a temporary project or long-term assignment, a talent partner can help build and execute a talent acquisition strategy that works.
Check Out Our Report To Learn More About The Future Of Work