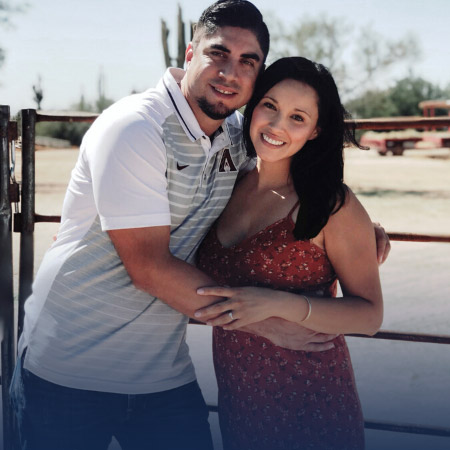 JEN MARTIN
Senior Corporate Recruiter
PEOPLESCOUT, U.S.
What do you actually do at PeopleScout day to day?
I work as an internal senior recruiter for our Corporate PeopleScout Talent Acquisition team. I primarily support our Corporate HQ Departments for any hiring needs they have.
In addition, I assist with some of our client accounts for their hiring needs, as well as support our PeopleReady technology team for many of their technology roles.
How long have you been at PeopleScout and what was your first position here?
I have been with the company for 5 years. I started on the client side as a Flex Recruiter. I worked as a Flex Recruiter for just over a year before moving into the Internal Team.
Do you have a leadership philosophy? If so, what is it?
Leadership means not standing in front of your people but standing behind them — supporting, encouraging, allowing them to make mistakes and grow, but pushing them to see what they are also capable of. I love the fact that the "Alpha Wolf" leads his pack from the back not the front. He oversees the pack and watches for their safety. He is the leader but allows his pack to set the path and work together. I really believe good leadership is the same.
What advice do you have for women getting started in their careers?
Ask questions and don't be afraid to say you don't know something. Don't wait for people to ask you to do more, show you want to do more, and do more. Understand career development is 90% self-development. Growing in your career is constant and you will never know everything, but strive to learn or do something new each day. Do the uncomfortable and in time those things will become comfortable.
What is the biggest failure you've had at work and how did you get through it?
My position is very process oriented and regulated, you must be on it like glue or you can easily get lost and make mistakes. There is no one person who hasn't made a mistake some time in their career and it's remembering this. I am very hard on myself as a person and always want to give 110%. I have to remind myself that no one is perfect and just learn from what happened and let it go.
What is the proudest moment in your career so far?
For PeopleScout, it would be recently when I received the 2019 Employee Award. To be nominated meant a lot. Working in a virtual environment, we lose sight of the everyday small achievements we are making, at least I do many times. So, having someone recognize you for achievements really makes you understand the contributions we all make to the company's success.
What can we all do to support women in leadership?
Understand … as women, we typically have more than just our careers, many of us are working moms, students, caretakers or going through things that only women go through. We face many challenges as women, and we need to be there to support one another.