With the outbreak of coronavirus (COVID-19), many companies have had to put their recruitment plans to the test — shedding light into areas where their operations may not have been as complete or effective as expected. Without a solid and tested technology in place, organisations may find themselves confused — causing inaccurate data to analyse the next steps which can lead to delayed response time and in some cases, a negative impact to your overall recruitment model.
A step-by-step Future State Recruitment Diagnostic can be executed at a time when there is a disruption in services to protect people and assets and have the ability to resume operations in an expedient and controlled fashion. In addition, it identifies requirements and an execution strategy related to people, business operations and technology.
It's important to have a thorough and complete diagnostic because it's the only way to ensure organisations are effectively prepared for any future business interruptions. A solid plan enables organisations to continue critical business processes to minimise the impacts to customers and employees.
Our diagnostic services are designed to offer a best in class recommendations for the three core enablers of your recruitment model, People, Operations and Technology. The recommendations allow organisations and their recruitment teams to improve productivity, become cost efficient and are fit for purpose.
BENEFITS OF A DIAGNOSTIC
Business Current state assessment against future business requirements
Technology Guidance for enabling technology elements improvements and upgrades
Evolution Defined pathway to evolve your resourcing functions
Stakeholder Targeted refinements in ROI
Quality Pinpointed avenues to broaden and elevate talent acquisition
Operations Counsel in automation and consistency in process execution
CASE STUDY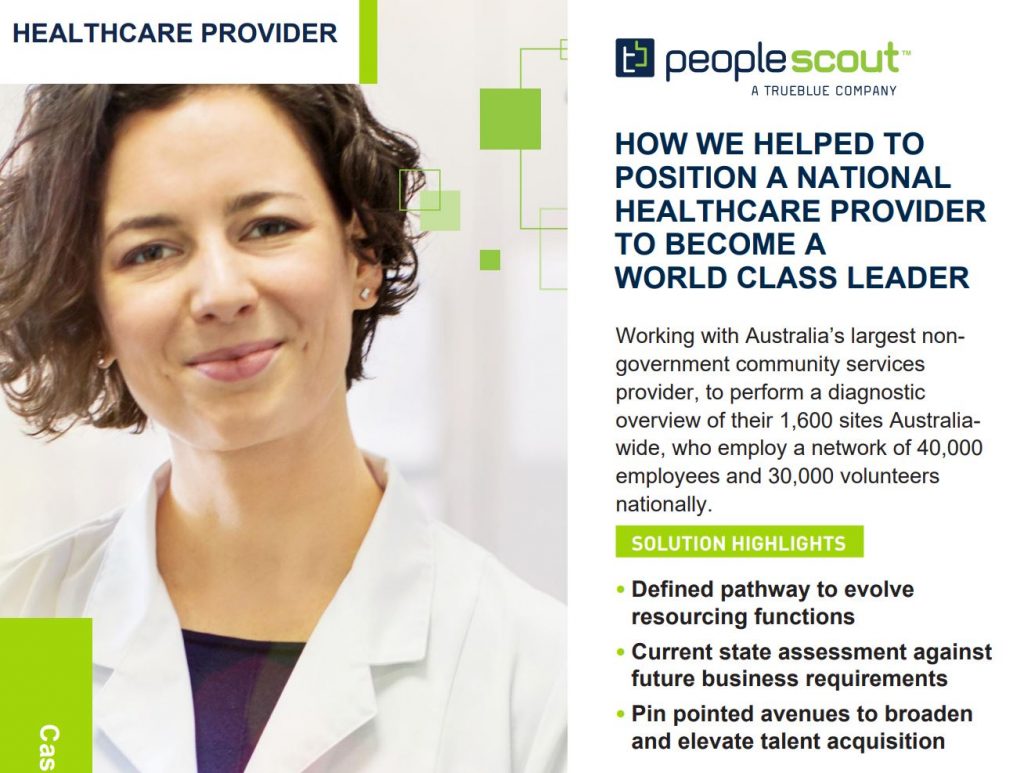 READY TO GET STARTED?
Because every organisation is different, our diagnostic consultations are tailored to meet short- or long-term outcomes.
Contact an expert today:
Corey Aston Head of Client Development
caston@peoplescout.com.au +61 401 594 258