Over 20 years ago, the U.S. Congress passed the Minority Health and Health Disparities Research and Education Act, or the Healthcare Fairness Act, to address national issues such as the increasing need for a diverse workforce. With focus on the life sciences, it stated, "There is a national need for minority scientists in the fields of biomedical, clinical, behavioural, and health services research." Yet, underrepresented populations are still the largest "untapped STEM talent pools in the United States."
Black and Hispanic individuals remain underrepresented in the science, technology, engineering and math (STEM) workforce. Plus, women remain underrepresented in fields like physical sciences, computing and engineering. Moreover, organisations in Europe are struggling to find and retain women in STEM. According to Eurostat, female scientists and engineers remain a minority in STEM roles, and despite increases over the past decade, women still make up only 16.5% of engineers in the UK.
For life science organisations, the lack of minorities and women in STEM fields and the sector overall will present long-term challenges in cultivating a workforce that will help them remain competitive in our increasingly diverse and interconnected world.
However, it seems there hasn't been much progress made in the 20+ years since the Healthcare Fairness Act. So, how can life science organisations make a difference in creating more diversity in life science careers? Keep reading to learn more about the DE&I challenges and opportunities for life science employers.
Life Science's Lack of a Diverse Workforce
Diversity is lacking across the entire life science industry, from research to clinical work. According to the U.S. National Science Foundation, the representation of minority ethnic groups in the science fields must more than double to match the groups' overall share of the U.S. population. In fact, 65% of the U.S. workforce in life science are white, 19% are Asian, 8% are Hispanic and only 6% are Black. Being a future-focused employer requires investment in building diverse and inclusive teams. Bringing underrepresented groups into your organisation provides a full range of benefits and skills to drive innovation. The issue is particularly pressing as the industry undergoes a wave of transformation due to the disruption of tech—further widening the current skills gap.
Additionally, diversity in leadership will help you boost retention and attract talent. With 85% of life science employees who identify as a minority saying they are 'hugely underrepresented' in senior roles, the lack of diverse leadership representation could be detrimental to your organisation. It could affect your bottom line and further hinder your ability to attain those highly competitive, in-demand skills (like data analytics and computer programming) needed within the industry.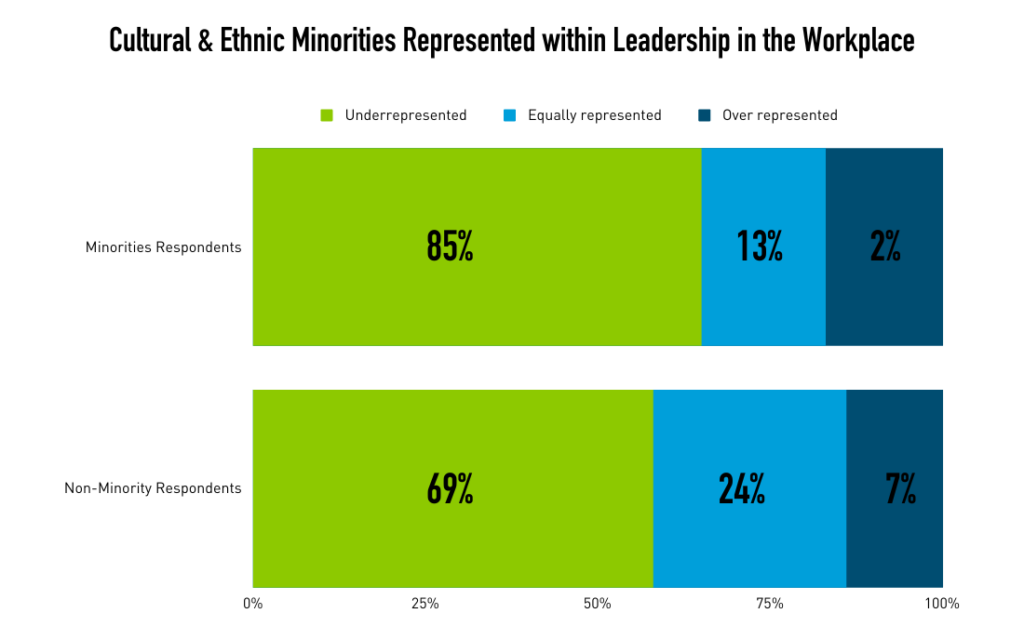 Furthermore, Informa Connect conducted one of the largest industry employee research reports to date, which surveyed life science professionals around the world about their opinions on diversity and inclusion in the industry. When asked what the industry's biggest problem is pertaining to having an inclusive and diverse workforce, over a third of respondents named the lack of representation of minorities in leadership roles.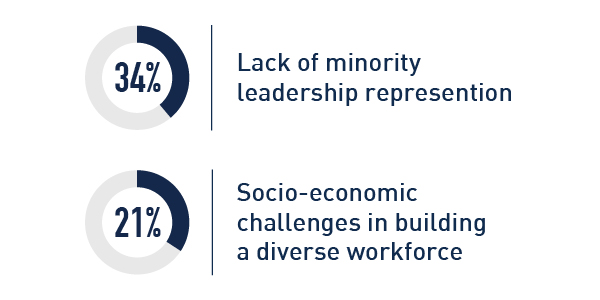 Gender Inequality in Life Science
Due to the lack of women in STEM careers, life science employers struggle to attract women to R&D roles. According to the United Nations Educational, Scientific, and Cultural Organisation (UNESCO), 70% of global researchers are men. This creates problems for life science employers as both female life science professionals (65%) and male professionals (59%) believe women are under-represented overall. It doesn't help that, although women make up almost half (48%) of life science workers, men still out-earn women by 13%.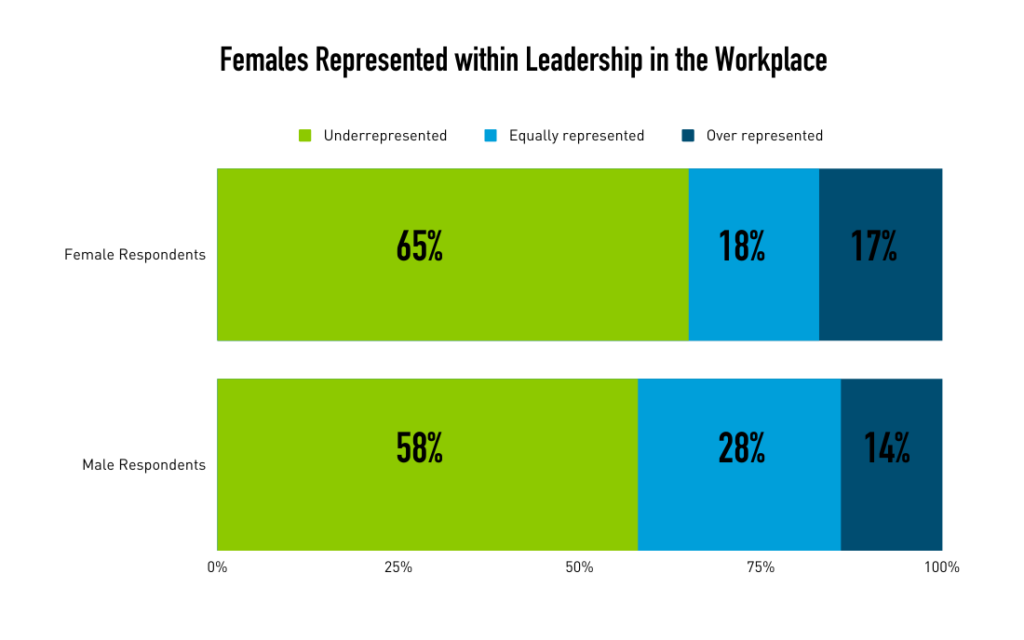 Why is Diversity in Life Science so Important?
Although there are clear disparities around representation of minorities and women in life science, only 23% of organisations are giving significant focus to DE&I and only 13% are financially investing in diverse groups. Organisations that aren't prioritising DE&I will struggle to cope with the industry's current talent shortage. The lack of diversity puts organisations at a competitive disadvantage when it comes to attracting and retaining top talent.
In our recent research report, candidates say that a diverse workforce is an important factor when evaluating companies and job offers. This is even more important for candidates from underrepresented groups. In Biospace's latest report, 93% of women of color responded that they believe diversity is important when considering a job. Investing in DE&I-focused talent acquisition strategies, programs and training creates a huge opportunity for life science organisations to grow a diverse and productive workforce.
A diverse and inclusive work environment builds trust, increases engagement and improves business outcomes.
Organisations with strong "diversity climates" have increased employee job satisfaction and employee retention as well as financial returns above national industry medians. Companies with above-average diversity scores report nearly 20% higher revenue due to innovation. 
Moreover, diversity provides many benefits for improved organisational performance and productivity such as:
Broader range of skills and experience
Multilingualism to support global growth
Increased cultural competence and awareness
Diverse workforces, including cognitively diverse teams, leverage a greater variety of perspectives to solve problems faster with improved accuracy. According to the International Labor Organisation, when companies establish inclusive business cultures and policies, they experience a nearly 60% increase in creativity, innovation and openness.
For example, the majority of the western world's research uses tissue and blood from white individuals to screen drugs and therapies that are developed for a more diverse population. However, different ethnic groups experience different outcomes from various treatments, methods and diseases. A diverse workforce, especially in biomedical science and pharmaceuticals, would more likely push for inclusion in research and testing and provide different perspectives that could lead to new insights and discoveries.
Strategies for Attracting, Recruiting and Retaining a Diverse Workforce in Life Science
Creating a diverse and inclusive work environment can be challenging, but here are some proven steps for attracting top diverse talent and establishing equitable recruitment practices.
1. Focus on Employer Branding
Show diversity as part of your organisation's DNA by articulating a compelling EVP and employer brand that clearly defines and establishes your organisational commitment to DE&I. Building your internal and external employer brand messaging gives you greater influence over what you are known for, how you are perceived by candidates and the value that you offer to your employees. Make sure your recruitment marketing materials are relevant to a variety of audiences with imagery and content that highlights diversity in race, gender and more. Plus, showcasing real employees adds a layer of authenticity to your employer brand.
2. Update Your Career Site
After viewing a job post, a candidate's first point of contact is usually your career site. It's crucial that your career site shows your DE&I efforts. Sharing diversity goals publicly and transparently is an important way for candidates to experience your organisational values and mission.
3. Keep Job Listings Simple
Plain language is especially important if you want to reach diverse populations. Use verbiage that your candidate would use rather than your internal terminology and assess your job ads for biased language. Avoid verbiage like "expert," "rockstar" or "like a family" that are often masculine and project a homogeneous work culture that prioritises like-minded thinking over diversity. Additionally, remove any experience or skills that are "nice-to-have" in your job descriptions, and keep in mind that men and women value different things. For example, while men usually prioritise compensation, most women see work-life balance as their number one priority.
4. Go Beyond Your Careers Site
Elevate your sourcing strategy by:
Optimising your reach by posting on relevant job boards and platforms. Don't forget that professional networking groups, like the Black Healthcare and Medical Association, are great resources to get your job ads in front of the right people.
Establish relationships with STEM-based programs at universities, alumni associations and other networking groups that cater to diverse populations.
Get your internal teams involved by asking for referrals. Diverse employees are often connected with diverse candidates.
In doing so, you cast a wider net to reach a larger pool of diverse candidates, maximising your chances of growing your workforce.
5. Representation Matters
During the interview stage, make sure candidates see how much you value diversity by having a diverse panel of interviewers. When a candidate sees someone who looks like themselves or another minority when being interviewed, it creates a sense of belonging and reaffirms your company's mission to establish a diverse culture. Additionally, make sure your hiring panel has received diversity training and can successfully communicate with those that think differently and have unique backgrounds or working styles.
6. Invest in Diversity Training
Through diversity training, you can help change systematic diversity hurdles—such as your organisation's hiring practices and how diverse talent is sourced as well as taking action to increase diversity at the board or leadership level.
"Companies need to acknowledge the unique needs and contributions of employees with multiple historically excluded identities."

Yaro Fong-Olivare, Executive director of Bentley University's Center for Women and Business (CWB)
Diversity training programs are not a one-size-fits-all solution and come in various training types, which can be customised to help achieve your organisation's goals. Diversity training helps employees feel a sense of belonging, so they are more likely to stay with an organisation, which can improve your retention rates.
7. Enable Talent Acquisition Technology and Track Your Efforts
To build a diverse candidate pipeline, it's critical that you engage cutting-edge technology and analytics tools to know where your diverse candidates are coming from, how they're progressing through the recruitment process, and which of your sourcing channels or campaigns brought them to you. Although these insights are often stored in different systems and platforms, a comprehensive reporting tool can help synthesise your data and visualise trends.
For example, PeopleScout's Affinix™ brings together applicant tracking systems (ATS), candidate relationship management (CRM) systems, artificial intelligence, machine learning, digital marketing, predictive analytics and digital interviewing to provide award winning innovation to support your organisation's diverse hiring goals. Affinix Analytics' diversity dashboards show how diverse candidates are entering your pipeline in real time. By tracking how candidates progress through your funnel, you can determine which resources and campaigns bring in top candidates from underrepresented groups. From there, you can analyse the results, identify hiring trends, adjust sourcing spend and strategy to make data-driven decisions.
Conclusion
Building an inclusive and diverse workforce doesn't start and end with just hiring underrepresented groups, it requires an entire organisational shift. In order for the life sciences industry to maintain leadership and competitiveness in science and medical advancement, it's crucial that organisations invest in building a strong and diverse talent pipeline. Everyone from the C-Suite to hiring managers has an important part to play in achieving DE&I goals and shrinking the industry's growing workforce gaps.