The demand for skilled tech and digital talent is growing at an unprecedented rate in response to the emergence of new technologies, making the competition for talent as tight as ever, with both tech and non-tech companies vying for the same qualified candidates. For the tech sector, it's a time of transformation. For non-tech organizations, it's a golden opportunity to fill their technical skills gaps. But for any employer looking to attract top digital talent, it is essential to first understand what candidates are looking for in a new employer.
In this article, we explore the opportunity for non-tech organizations and offer insights into what tech and digital professionals are looking for in a new employer.
Plenty of Demand Despite Tech Sector Shifts
The tumultuous labor market and recent economic landscape have been a rollercoaster for all HR leaders, but those in the tech sector have experienced particularly high highs and low lows. Recent layoffs at tech companies are being categorized as a "course correction" by many publications, and it seems the "growth-at-all-costs" attitude has finally caught up with tech organizations. Over 160,000 professionals were laid off in 2022 according to Layoffs.fyi, with additional cuts taking place in 2023.
Yet, despite this, demand for tech talent remains high. Over 375,000 tech jobs remain unfilled in the U.S. according to the Dice Tech Job Report. In Australia, tech jobs grew more than twice as fast as the average employment rate in the last decade. In the UK, 41% of companies expect to hire for technical skills in 2023.
The Tech & Digital Talent Diaspora
This demand is being primarily driven by traditional companies, rather than software companies or other tech organizations. In fact, the majority of people in tech occupations (59%) don't work in the tech sector.
In our digital-first world, every company—from apparel brands to car insurance companies—has tech at the heart of their business as they develop mobile apps and ecommerce consumer experiences. In fact, the biggest and fastest-growing industries for tech professionals are finance, manufacturing and healthcare as these sectors increasingly digitize their operations.
The ratio of tech and digital workers employed outside of the tech industry will continue to grow. Many workers recently laid off from Big Tech firms have highly sought-after skills, creating an opportunity for more traditional organizations to land tech and digital talent.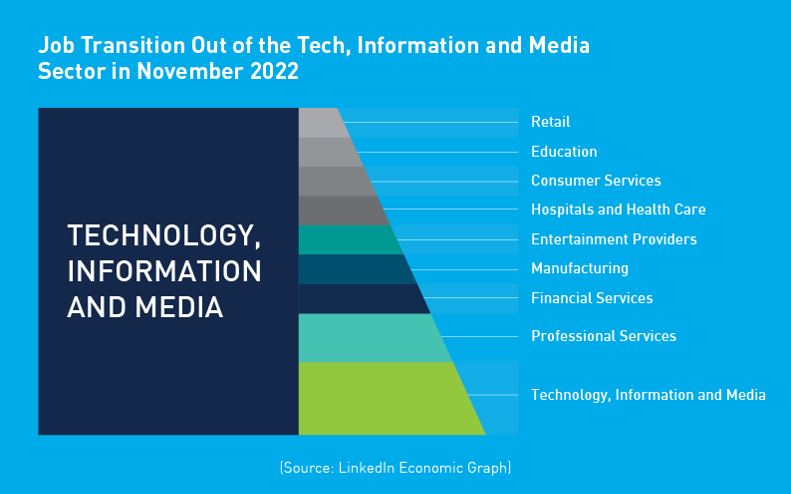 Will Former Tech Workers Re-Evaluate Their Options?
Given the extent of the downsizing in the tech sector, many workers will think twice about going back to a tech company in the future. Traditional employers, that previously couldn't compete against the high salaries and quirky perks that Big Tech could provide, now have more to offer tech workers—including stability.
Tech workers are trading the excitement of startups for the steadiness of more traditional employers. The unpredictable nature and funding rollercoasters of tech firms have left many tech professionals seeking a saner pace. As traditional companies embrace AI, blockchain and cybersecurity, workers who have left the tech sector can still leverage their tech and digital skill sets, but with a greater sense of security.
What Do Tech and Digital Talent Want?
When they're ready for growth again, Big Tech will have to rethink their approach to engaging tech talent and attracting them back to the industry. So, what do tech and digital workers want from their employer and their job? Here are three top considerations that organizations across sectors should focus on to attract and retain tech and digital talent.
Flexibility & Work/Life Balance
Many tech workers who experienced the fast pace and intense work culture of startups now find themselves burnt out and are prioritizing more work/life balance. Flexible contracts and remote working are important to tech workers, with 29% citing flexibility as a top priority when looking for a job. Yet, 48% of tech sector employees said that they were feeling pressure from their employer to come into the office more often.
Recent Gallup analysis shows that employee engagement is lowest among on-site employees, with the biggest dip seen among employees who are capable of working remotely but are required to be on site. Flexibility is not just a perk to offer employees; it should be viewed as a critical way to increase productivity. Organizations can reap the benefits of flexibility in the workplace by continuously monitoring their flexible work program and addressing any challenges experienced by employees or hiring managers.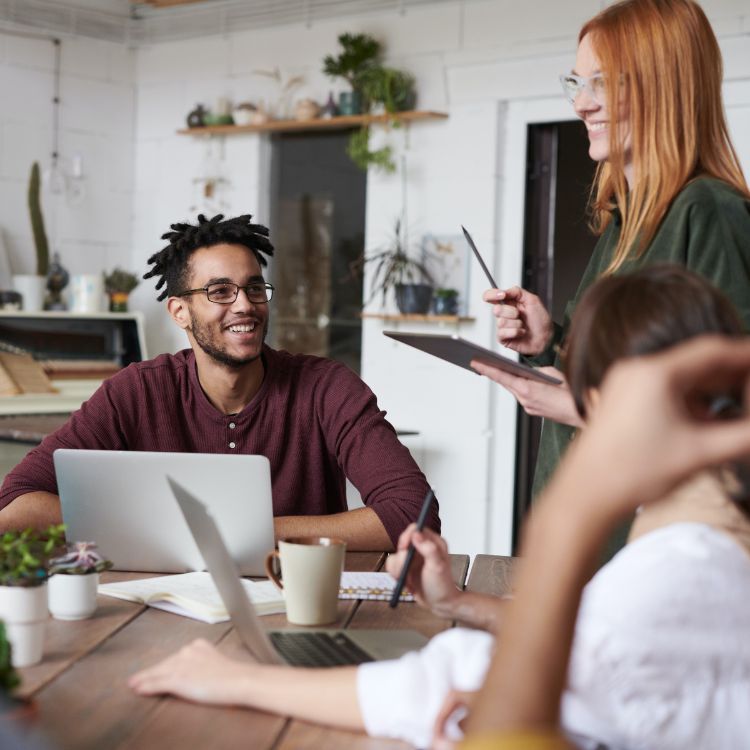 Digital Skills Development
No one is more aware of the speed of technological advancement than tech and digital workers. And this can lead to anxiety. In fact, 29% of digital employees globally believe their skill set is redundant now or will be in the next one to two years, and 38% believe their skills will be obsolete in the next four to five years.
In terms of retaining digital talent, investing in training and upskilling programs is crucial for all organizations. Over half of digital talent (55%) say they're willing to change employers if they feel their skills are stagnating in their current role. Plus, 58% say they would gravitate to organizations that offer better tech and digital skills development.
With an abundance of job opportunities available, these employees won't hesitate to find an employer that will invest in their career development. So it's concerning that only 27% of employees said their organization had plenty of opportunities in place to help them to learn new skills. Learning and development programs are not only an important part of retaining talent with tech and digital skill sets but can also be an effective way to attract talent.
Start with a skills audit and compare the findings to your business roadmap. By uncovering the areas where your workforce needs the most training, you can then take steps to develop an upskilling program. For example, PeopleScout worked with a longstanding UK financial services RPO client to lead a reskilling program to help the client evaluate their customer service staff in bank branches and call centers to find candidates for their tech skilling program. We were able to identify over 1,000 employees who are now participating in a 12-month "bootcamp" to build digital and tech skills and move into new careers within the organization.
Meaningful Work
Organizations must find out how to communicate their employer value proposition (EVP) in a way that resonates with digital talent. Make sure your attraction content emphasizes the give and get for people in tech roles at your organization including learning and growth opportunities, your tech innovations and projects, well-being initiatives and more. Plus, more and more candidates are paying attention to organizational values and mission. If they can't determine if their personal values are aligned with the company's mission, they won't apply.
EVP is not all about attraction, but also about employee retention. From a retention perspective, it's crucial that employers continue to showcase how you're investing in your employees beyond compensation and benefits. This helps to boost feelings of engagement and to build loyalty. 
As the pace of digital transformation accelerates, it is difficult to envisage a company attaining its full potential without a strong foundation of tech and digital talent. Demand for this crucial part of the workforce won't let up soon. It's mission critical for organizations to understand what makes this group tick in order to attract, hire and retain tech talent. To get more strategies for attracting and hiring tech and digital proessionals, download our Recruitment Handbook for Tech & Digital Talent.