At PeopleScout APAC we are committed to providing you with information to help guide you on your D&I journey. We aim to cover a wide range of D&I topics, including issues regarding BIPOC, the LGBTQ+ community, gender gaps, people with disabilities and more. In this article, we cover the history and importance of NAIDOC Week and offer advice and recommendations for employers looking to build more inclusive workplaces for First Nations peoples.
Each year in Australia, NAIDOC Week is observed in July to recognise the contributions of the First Nations and Torres Strait Islander communities to history and achievements of Australia. It's an occasion to celebrate the oldest, continuous living cultures on Earth.
NAIDOC Week takes its name from the National Aborigines and Islanders Day Observance Committee. The annual celebration stems from The Day of Mourning, which was first held as a protest to Australia Day on 26 January 1938, the 150th anniversary of the arrival of the First Fleet, marking the beginning of the colonisation of Australia. Aboriginal Australian were protesting the mistreatment of their ancestors and the seizure of land and resources from the First Nations peoples. It became an annual tradition and evolved into a week-long event in 1975 resulting in NAIDOC Week.
Aboriginal and Torres Strait Islander peoples have a rich and ancient history, and each person brings their unique views and experiences to the workforce. Creating career opportunities for First Nations peoples in integral to a workplace diversity and inclusion (D&I) program. In this article, we'll provide an overview of the First Nations peoples, discuss the challenges these Australians are facing in the workplace and share actionable strategies your organisation can leverage to create opportunities for Aboriginal and Torres Strait Islander workers.
Who are First Nations Australians?
"First Nations Australians", is a general term that includes two distinct cultural groups—Aboriginal and Torres Strait Islander peoples. Within these groups sits a wide array nations, islands, tribes, clans and communities, each with their own culture, language and beliefs.
Australia's First Peoples cultures developed over 70,000 years on the continent now known as Australia, making them the world's oldest living cultures. Aboriginal peoples come from all regions of Australia. Torres Strait Islanders originate from a group of 200 islands off the northern tip of Queensland, south of Papua New Guinea. Each Aboriginal and Torres Strait Islander person will have their own specific culture and ancestral homeland with which they identify.
A Brief History of Oppression of Australia's First Peoples
Australia was originally founded as a penal colony for Britain. On 26 January 1788, a fleet of 11 British ships carrying 700 convicts arrived at the colony to establish an agricultural work camp.
Aboriginal populations were subjected to forced labour and eventually segregated. As recently as the 1970s, Aboriginal children were forcibly removed from their families by Australian Federal and State agencies and put into institutions or placed with white families in a misguided attempt to assimilate them into white society. In addition to abuse and neglect, these children were deprived of learning their oral culture as parents were unable to pass down their traditions to these Stolen Generations—and much has been lost.
In 1967, Aboriginal peoples were granted citizenship, which started a journey of slow progress towards reconciliation in Australia. With unanimous support from Parliament, the Council for Aboriginal Reconciliation was established in 1991 to raise awareness of the history of the treatment of First Nations peoples in Australia. Today, the Council of Australian Governments (COAG) have set out ambitious targets to remedy the disadvantages they now face as a result historical harm.
First Nations Peoples in the Workplace
The Closing the Gap strategy was created 2008 to address six major areas of improvement relating to health, education and employment. The 2020 Closing the Gap report, shows big strides made around education. While still lower than non-Indigenous Australians, 66% of First Nations Australians aged 20-24 years have completed a Year 12 level of education or higher—up 21% from a decade ago.
However, despite educational advancements, First Nations people remain largely underrepresented in the workplace. In 2018, the employment rate of Aboriginal and Torres Islander peoples was around 49% compared to around 75% for non-Indigenous Australians. Unfortunately, not much improvement has been made over the last 10 years with just 0.9% growth in the employment rate for Indigenous Australians.
To counteract these concerning trends, changing the way First Nations candidates see themselves represented in an organisation first start with indigenous leadership roles. In latest 2022 Australian Indigenous Employment Index Indigenous employees expressed motivation and comfort knowing there was an Indigenous leader responsible for them, or to look up to. They can act as "translators" in corporate culture to help workplaces understand Indigenous ways and values, including aspects of collective culture and Indigenous governance. Research shows that 69 per cent of employers with a strategy or plan led by the CEO report an increase in Indigenous employment in the last 12 months, while only 32 per cent of organisations who do not have a strategy or plan led by the CEO reported the same. This difference is significant (p<0.05) and indicates better outcomes when accountability is at the highest level of the employer (see Table below)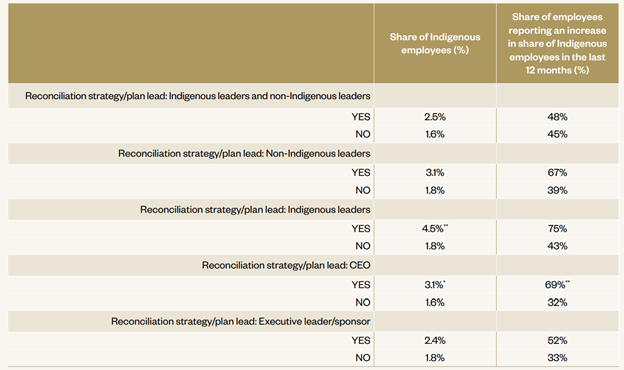 (Source: Mindaroo Foundation Australian Indigenous Employment Index 2022 )
(Source: The Guardian/Inclusive Australia/Monash University)
In addition many organisations are now executing against a Reconciliation Action Plan (RAP), which sets out how they will contribute to reconciliation with Aboriginal and Torres Strait Islander peoples and creating meaningful opportunities for them. An important part of a successful RAP is a dedicated strategy for recruitment of First Nations peoples.
"Reconciliation isn't a single moment or place in time. It's lots of small, consistent steps, some big strides, and sometimes unfortunate backwards steps …" – Karen Mundine, Chief Executive Officer, Reconciliation Australia
Strategies for Improving First Nations Talent Acquisition Outcomes
Although a small talent pool, Aboriginal and Torres Strait Islander workers can add huge value to your organisation. Increasing the number of Indigenous Australians in your workforce will help you reflect your community and increase your understanding of your cross-cultural customer base. Focusing on Indigenous employment can open up additional business opportunities—including government contracts—and aid in the expansion your revenue potential.
The majority of Australians (59%) say they would like to work with a First Nations person, and 66% say they would employ an Indigenous Australian given the opportunity. So how can employers attract, hire and create more opportunities for First Nations peoples?
At PeopleScout, we have developed this five-pillar approach to a First Nations resourcing strategy:
1. Labour Market Insights
Your strategy should start with developing a deep understanding of your First Nations target audience. Conduct labour market research in all regions in which you're hiring to understand the size of the talent pool and gain insight into current employers and role types and common skills.
Working with a First Nations resourcing consultant can help you understand the drivers and motivators of your First Nations audiences. Combine this with demographic data to create a talent persona that informs your recruitment marketing messages so they resonate with First Nations talent.
2. Community & Stakeholder Engagement
Start by communicating with indigenous leaders and educating your recruitment partners—to drive accountability and positive outcomes for any Reconciliation Action Plan (RAP) you have in place and how talent acquisition fits in. This is also a good time to ensure all your sourcers and recruiters have completed cultural awareness training. You should also share the labour market insights you gathered so they have a clear understanding of the skill sets that exist within the First Nations communities and how they map to your business.
Once you've informed your internal stakeholders, it's time to identify groups within you're the First Nations community and start establishing relationships. These could include schools and universities (and Aboriginal and Torres Strait Islander student groups), community groups, social media groups and more. This will help build awareness of your organisation and lay the foundation for referrals to your roles.
3. Attraction
Start by reviewing your existing employer value proposition (EVP) to ensure it's relevant to a First Nations audience. It's important at this stage to have a feedback session with your existing First Nations employees or consultants to further develop your employer brand messaging to understand cultural sensitivities in a respectful way that values indigenous knowledge and practices.
Then, update your careers page and any recruitment marketing assets and creative, if needed. You may also consider creating a dedicated First Nations career page. Using these materials, you can actively promote your positions to the community groups with which you've been engaging.
4. Assessment & Selection
This pillar is all about ensuring more First Nations candidates progress through each stage of the recruitment process to ultimately increase hires.
It's crucial to partner with your hiring managers to ensure they're aligned with your diversity hiring targets and how your organisation's RAP might impact their business unit. You should also present them with your labour market insights which will be the basis of an important conversation around required skills within the available talent pool. Your recruiters and hiring managers should agree on where there is flexibility within the technical capabilities for each role—what can be developed on the job versus what skills they need to have from the start in order to be successful. Then, when reviewing candidates and applicants, you can view them through the lens of transferrable skills that an individual can bring to the role—not strictly for exact experience.
The assessment and selection stage of the recruitment process can often be where most roadblocks lurk for First Nations candidates, so it's important to assess your candidate experience to root out anything that may negatively impact Aboriginal or Torres Strait Islander candidates. Document any recruitment process changes and present these guidelines to hiring managers.
As they move through your recruitment process, it's important to gather feedback from First Nations candidates. Candidate NPS is a good way to gauge the experience of Indigenous candidates versus non-Indigenous and uncover any areas for improvement. Share this data amongst recruiters and hiring managers and adjust as needed to ensure ongoing success.
5. Reporting & Analytics
No First Nations talent acquisition strategy or RAP will be successful without measurement and regular reporting on progress.
The first step here is to define your success measures. These may include:
Level of interest / number of applicants from First Nations peoples
Candidate source (can help you determine if certain community relationships need more attention and inform your recruitment marketing campaigns)
Candidate quality
Pipeline data showing the number First Nations candidates at each stage of the recruitment process
Number of First Nations people hired
Retention rates
The ability to report on these metrics may require you to evaluate your recruitment analytics technology and upgrade your tech stack if needed. Look for a tool that lets you build an RAP dashboard that included modules that show data specific to your First Nations recruitment process.
As you build your dashboards and determine what to include, think about which stakeholders within your business should see the data and what they should see. Your C-suite, talent acquisition teams and hiring managers will all have different needs and concerns. Regularly analysing this data and trends over time will go a long way to ensure you achieve your First Nations recruitment outcomes.
First Nations Peoples & Workplace Diversity
To stay competitive in today's challenging recruitment landscape, diversity and inclusion must be at the core of your talent strategy. When candidates and customers see diversity within your business—including First Nations employees—they're more likely to invest their time and resource in your organisation. By celebrating the cultures of First Nations peoples and creating opportunities for them to thrive, you can foster long-term reconciliation and respect for this diverse talent pool—for NAIDOC Week and beyond. To learn more about how PeopleScout is helping clients with First Nations talent acquisition, check out this video featuring the Head of Resourcing at Lendlease.