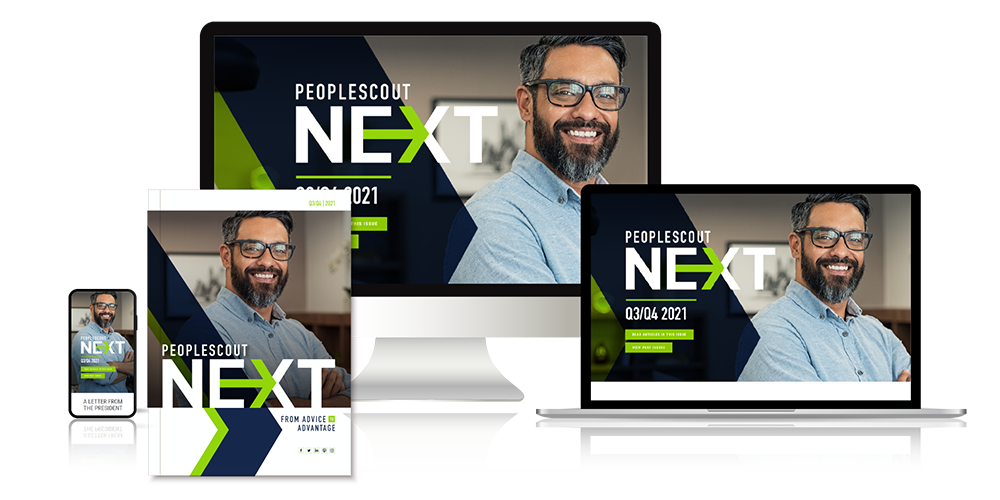 ARTICLES THIS ISSUE
The talent acquisition landscape has drastically changed over the past year. Job openings and resignations are at record highs, hybrid work and hybrid hiring strategies are on the rise and diversity, equity and inclusion remain key areas of focus for many employers.
At PeopleScout, we endeavor to stay ahead of these key trends. In this Q3/Q4 2021 issue of PeopleScout NEXT, we explore the opportunities talent leaders can find in a challenging market. We again present this issue in three sections: Now: Tackling Today's Challenges; New: Attracting Candidates for the New World of Work; and Next: Achieving your DE&I Goals.
In this issue, you'll find insights on hybrid work models and hybrid hiring strategies to set candidates and employees up for success and to help employers respond to the changing expectations of the workforce.
In celebration of pride month, we provide a historical look at LGBTQ+ activism and victories in the fight for workplace equity and strategies to promote LGBTQ+ inclusion in the workplace.
A Talking Talent Profile with Jose Carbia, vice president of talent acquisition at Change Healthcare, where Jose discusses his latest project, improving the candidate experience, with a focus on candidate communication.
We highlight the importance of women in leadership told through the voices of PeopleScout women across the organisation.
We outline best practices for employer branding and candidate attraction strategies that improve business outcomes.
Talking Talent Leadership Profiles with George Tate, PeopleScout's senior vice president of business development and Mark Jauregui, PeopleScout's senior vice president of client delivery, where they discuss what is top of mind for talent leaders during the Great Rehire.
We provide strategies for improving retention and employee satisfaction with learning and development programs.
We deliver guidance on building an employer value proposition that speaks to purpose, passion and a growth mindset.
And more!
At PeopleScout APAC, we pride ourselves on going above and beyond. We provide more face-time, more advice, more expertise and more value.
Our approach to RPO, MSP, Total Workforce and Talent Advisory solutions is truly consultative.
If you need fresh thinking and new perspectives to improve your talent acquisition strategy, please contact us.