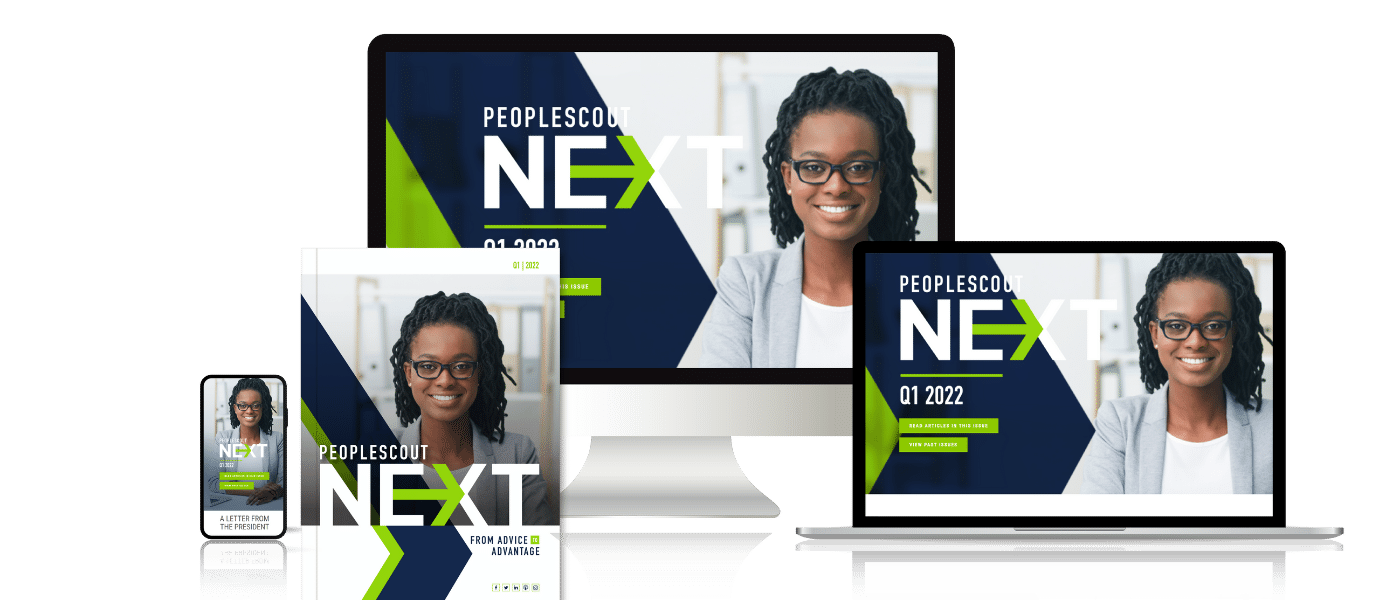 YOUR GUIDE TO WHAT'S NEXT IN TALENT ACQUISITION
It's been two years since the COVID-19 pandemic first swept the globe, changing not only life as we knew it, but making drastic and lasting impacts on business and the world of work. Health and safety concerns have fluctuated, labour market challenges continue to stymie production and economic recovery remains uneven. As we continue to face an uncertain world, we must leverage what we have learned over the past two years—to remain flexible and nimble, stay ahead of the latest challenges and find creative ways to solve new problems.
As your trusted advisors, we don't want you to face these challenges alone—instead, we hope you will bring us your big problems so we can design a solution together. In that spirit, this issue of PeopleScout NEXT will provide you with the valuable insights you need to address the latest labour market trends. You will find the content is divided into three sections: Now: Building a Modern D&I Program; New: Prioritising Candidate & Employee Engagement in a Challenging Labour Market; and Next: Evolving Talent Technology & Programs for 2022.
In this edition of NEXT we:
Explain why keeping D&I at the centre of recruiting strategies remains critical
Share strategies for increasing employee engagement as a means of reducing turnover
Explore a talent pool that is often untapped, yet full of opportunity: boomerang employees
Discuss the emerging trend of a remote contingent labor force as a solution for employers
Look ahead to the evolution of talent programs and technologies
And more!
At PeopleScout APAC, we pride ourselves on going above and beyond. We provide more face-time, more advice, more expertise and more value.
Our approach to RPO, MSP, Total Workforce and Talent Advisory solutions is truly consultative.
If you need fresh thinking and new perspectives to improve your talent acquisition strategy, please contact us.