An organisation's employer brand is often in the hands of its candidates and employees. And, when it comes to employer review sites, the fate of your employer brand is – quite literally – at their fingertips. In fact, according to data from Workplace Trends, 72% of job-seekers share their experience on online employer review sites like Glassdoor. What's more, recent research from Deloitte found that 80% of candidates who experience an unsatisfactory recruitment process will openly tell people about their experience, and one-third of those candidates will do so proactively.
But, what does this mean for your organisation? Unfortunately, negative reviews from both candidates and employees can have a huge influence on your bottom line. For example, per CareerArc, 62% of consumers have stopped buying from an organisation that treats its employees poorly. Plus, an Indeed survey found that 95% of workers said that if they were considering a new job opportunity, insight into the company's employer reputation would be somewhat (33%) or extremely (62%) important. As a result, a poor employer brand reputation could cost your organisation millions as productivity decreases due to a reduced candidate pool and consumers stop supporting your business.
So, how can organisations take control of their employer brand and overall online reputation? Well, recent studies from HRO Today and PeopleScout show that organisations globally are planning to invest more heavily in social networking, consistent monitoring of employer review sites, and a greater use of employees as brand advocates.
However, while these steps are important to improve your employer brand, many organisations are unsure of where to start; they may also lack knowledge of best practices for these strategies.
Therefore, in this article, we'll help you improve your employer brand by outlining how to establish ownership of your organisation's presence on employer review sites like Glassdoor and Indeed; offer best practices for responding to reviews; share tips on how to effectively leverage employee brand advocates; and highlight some popular employer review sites that organisations should be familiar with.
Establish Ownership & Claim Your Employer Review Site Profiles
The first step in establishing an employer brand plan for review sites is to establish who in your organisation will own the initiative. Specifically, it may make sense to have your HR team manage the employer review site accounts because they are likely familiar with sites like Indeed and Glassdoor that offer job-posting functionality, in addition to candidate and employee reviews.
However, it can also be beneficial to form partnerships across departments to holistically manage your organisation's employer brand. For example, your communications team can assist HR in crafting responses to reviews that align with your brand standards for tone and voice, as well as provide up-to-date information on awards and accolades. In addition, HR can lean on the marketing team to maintain an active social media presence for your company, as well as work to optimise search results by managing SEO and creating content to combat potentially negative reviews and keywords.
After establishing who will take ownership of the management of employer review sites, claim your profiles. This can be done at no cost by verifying the profile as an employer and creating an employer account to edit and manage the profile.
Plus, with an employer account, you can add valuable information to your profile for candidates to view, such as:
Salary and compensation details
Explanation of benefits offerings
Company mission, vision and values
Overview of company culture
Logistical information (location, total number of employees, revenue, competitors, etc.)
Unique initiatives
Remote and flexible work policies
Diversity, equity and inclusion programs
Photos of employees, events and offices
Industry awards and accolades
It's worth noting that, according to Glassdoor, 75% of active job-seekers are likely to apply to a job if the employer actively manages its employer brand. You can do this by responding to reviews, updating your business profile, and sharing updates on the culture and work environment. Furthermore, building a robust profile on the employer review site will allow candidates to gain a better understanding of who your company is, what you stand for and what it would be like to work for you.
Respond to Reviews – Both Positive & Negative
Responding to reviews is perhaps the most important method in creating a strong brand presence on employer review sites. And, while both types of reviews can be easy to view and dismiss, leaving thoughtful replies is a guaranteed way to show candidates and employees that you care – regardless of whether the feedback is positive or negative. In fact, 80% of job-seekers who read reviews on Glassdoor say their perception of a company improves after seeing an employer respond to a review.
Some best practices to keep in mind when responding to reviews:
Address the reviewer by name (for non-anonymous reviews) to establish a personal connection
Thank the reviewer for their feedback
Acknowledge positive feedback
Address any concerns mentioned
Offer advice on any relevant next steps
Here are some examples of how to reply to common types of reviews: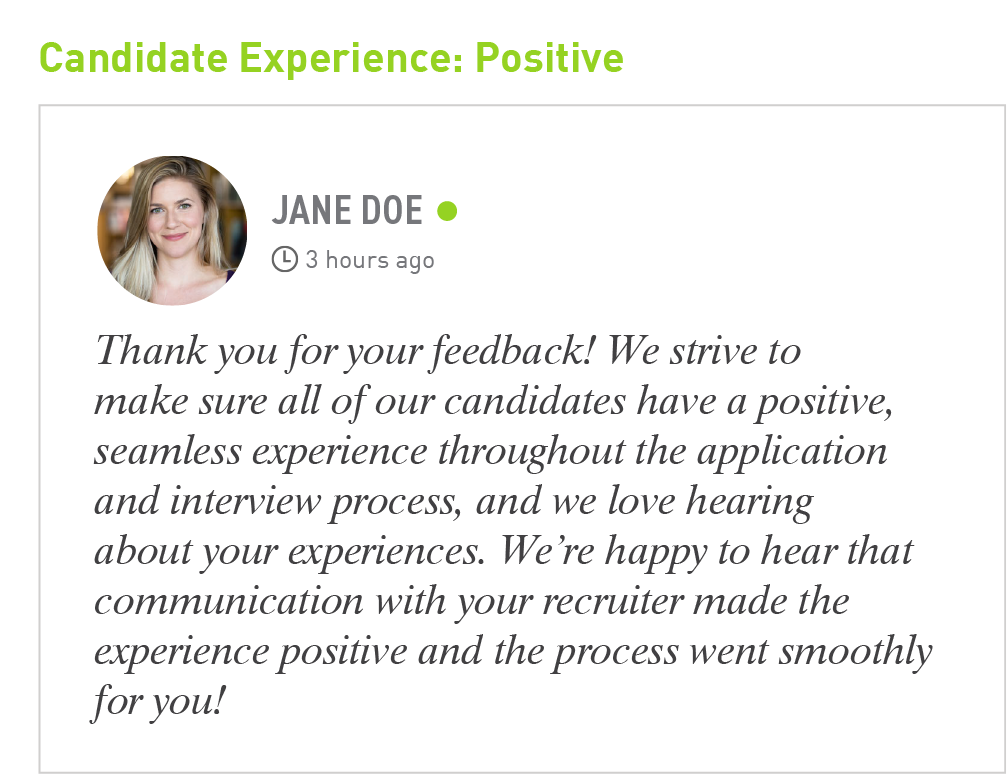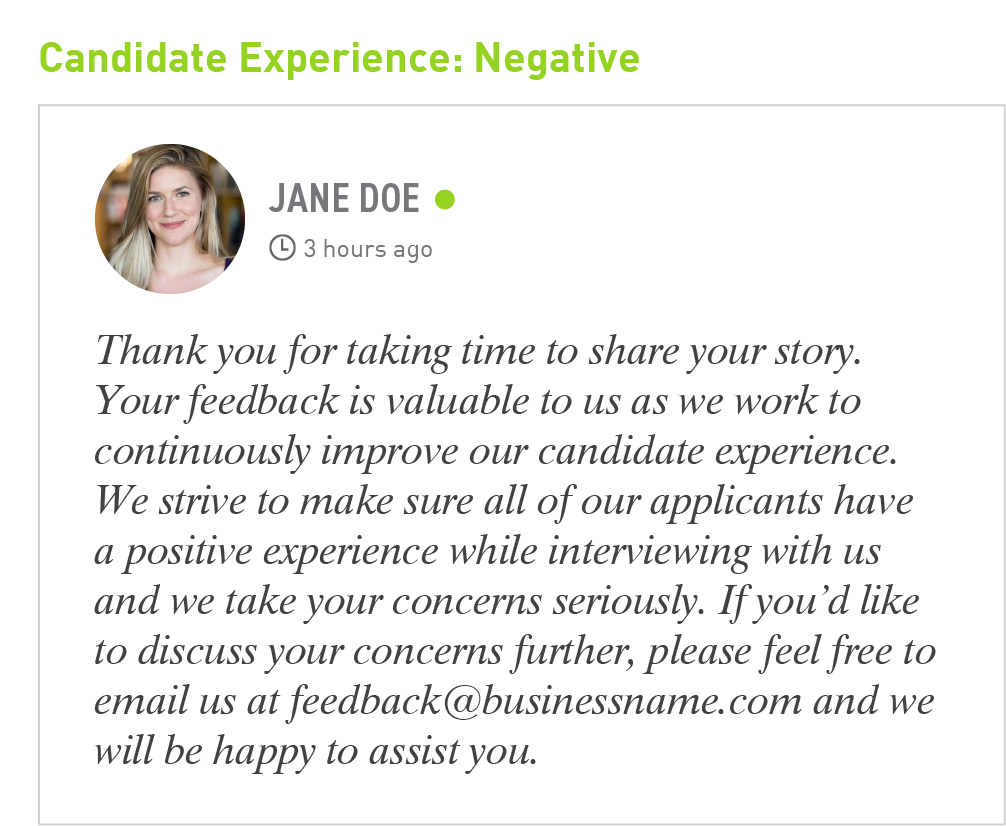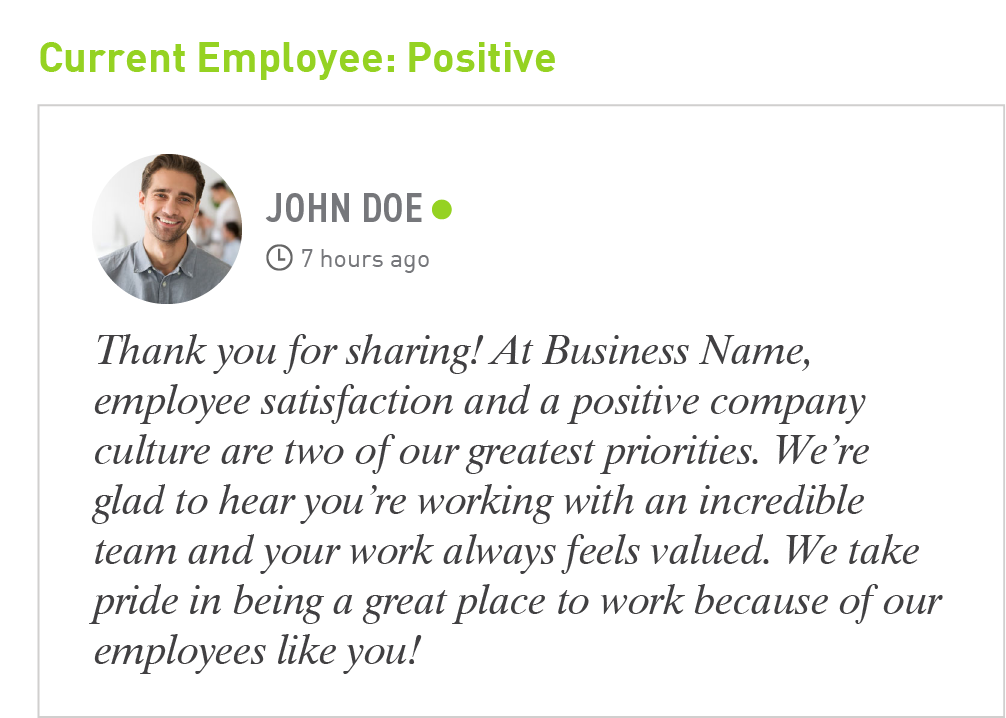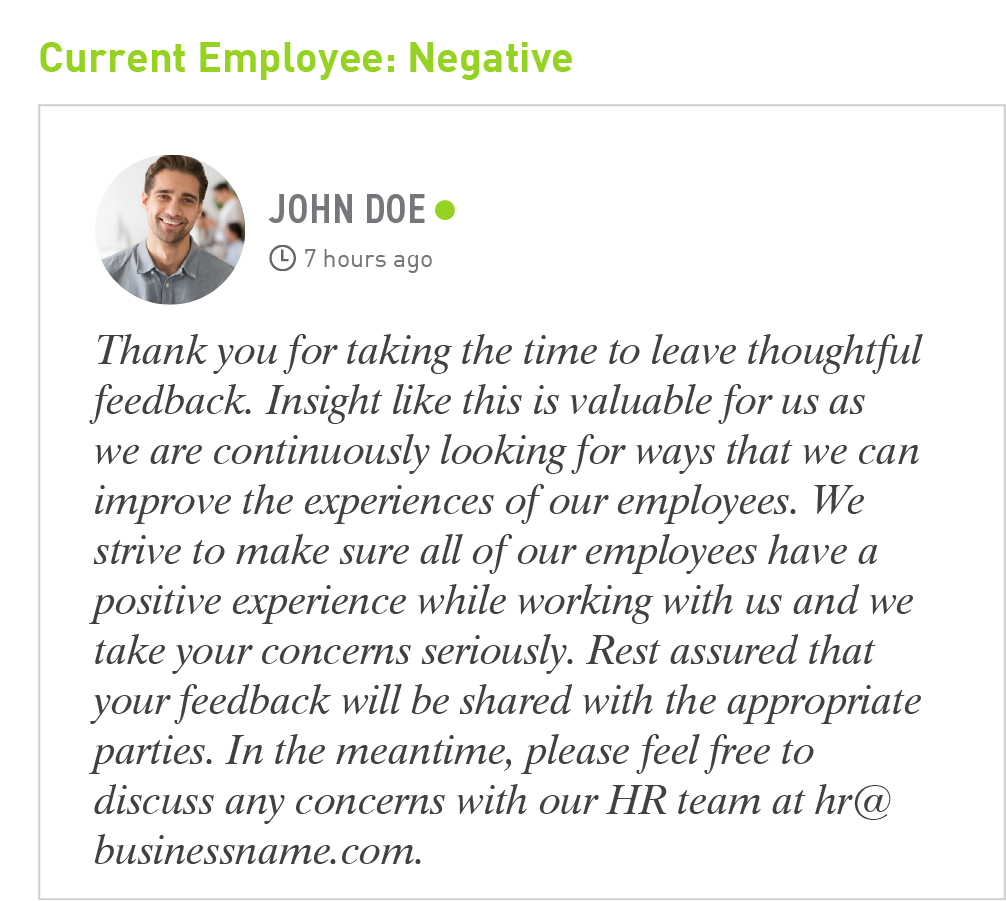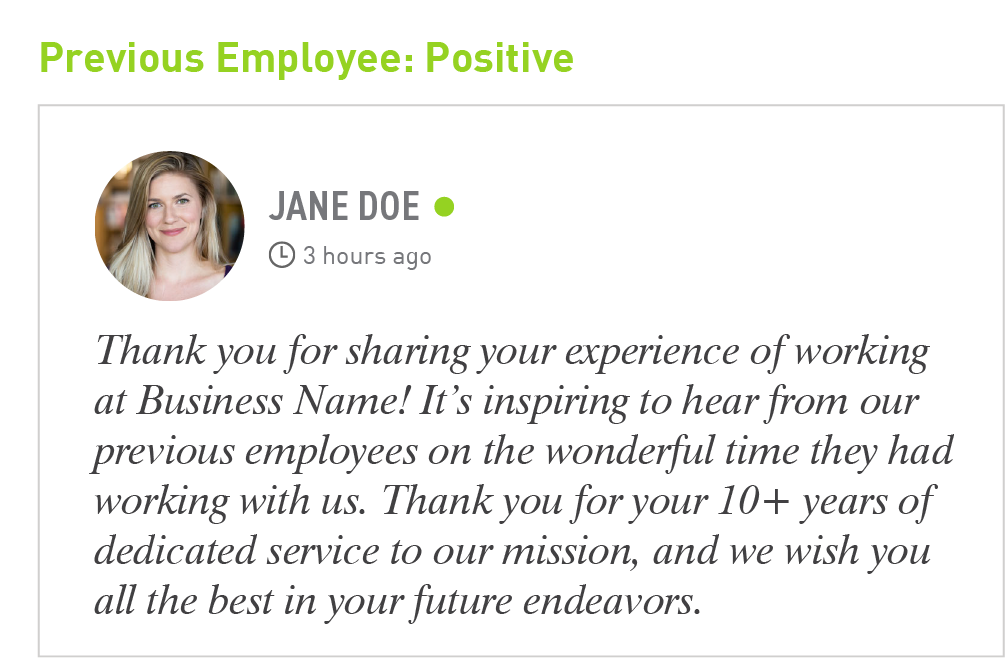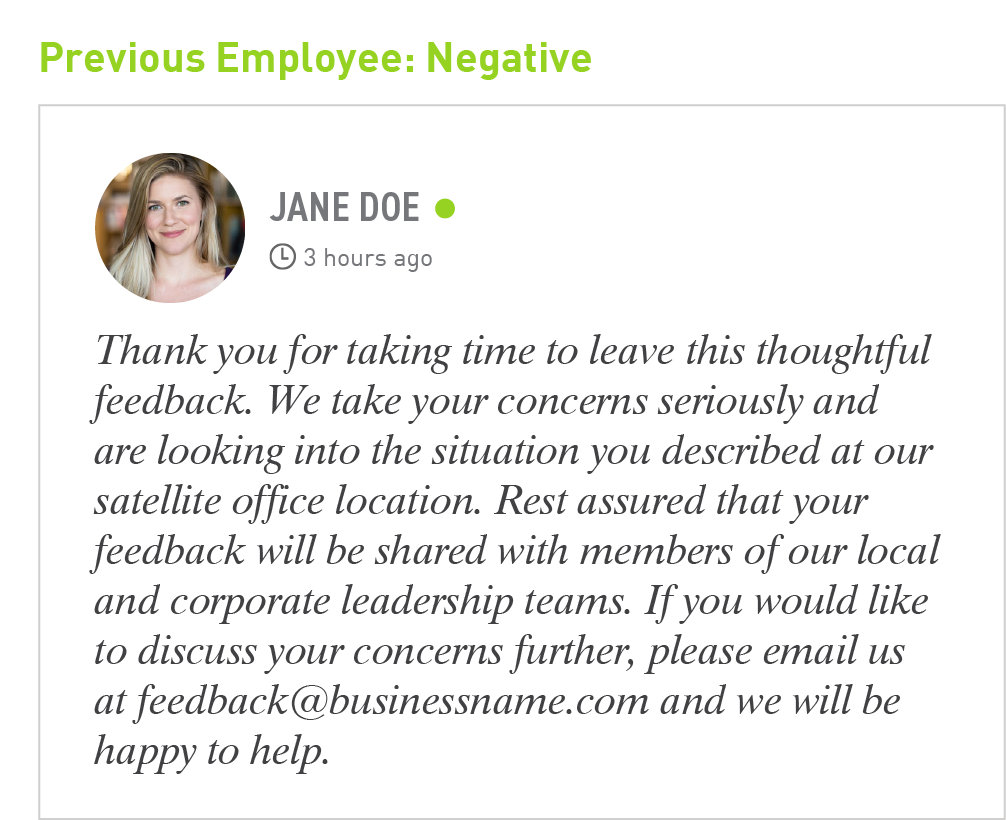 Leverage Employee Brand Advocates
While organisations have little control over who will leave reviews – especially reviews with primarily negative feedback – they can proactively build up a strong body of positive reviews by leveraging employee brand advocates. These are employees who advocate for an organisation and generate a positive image of the brand via online and offline channels. It's important to note here that, when encouraging employees to leave reviews, you should emphasize the value of honest, candid reviews; employees should not feel pressured to paint a certain image of your organisation.
Consider the following ideas to encourage employees to leave truthful, positive reviews that will help improve your employer brand:
New Hires
New hires are a great place to start when gathering positive reviews. That's because the application, interviewing, and onboarding process is still fresh in their minds and they recently chose your organisation as their new employer. So, ask new hires to leave a review on their hiring experience when they first start, and encourage them to update it after their first 90 days.
HR, PR & Marketing
Another good place to start is by requesting that members of your HR and marketing teams write reviews. Members of these departments already have a good understanding of the importance of employer review sites and are likely willing to leave honest reviews that highlight your organisation's strong points.
Promoted & Awarded Employees
If your organisation recognises employees for outstanding work with awards or honors, these workers can also be an excellent source of positive reviews. The same can be said for employees who have recently been promoted. A good practice is to establish a system that reaches out to these employees with a congratulatory message alongside a call to action to post online about their experience working at your company.
Employee Resource Groups
Employees who voluntarily join employee resource groups in addition to their daily responsibilities are already likely to be highly engaged within your organization. So, tap into these groups of employees and request that they leave reviews based on your organisation's culture and commitment to diversity, equity and inclusion – something Glassdoor provides ratings on and many candidates are interested in.
Regular Requests
Finally, managers should be empowered to regularly encourage their team members to leave reviews. This can become a regular practice during performance meetings, as well as after the completion of a big project or when hiring season is afoot. Likewise, if your organisation offers flexible work arrangements or other unique perks, employees should be encouraged to share emotive experiences of how these benefits have affected their lives.
Employer Review Sites to Consider
Because there are a variety of employer review sites out there, it can be hard to keep track of them all. So, we compiled this list of the top 10 you should monitor to improve your employer brand for long-term success.
As recruitment processes and the world of work continue to take digital shifts, employer review sites will become increasingly important in making or breaking a candidate's decision to join your organisation. And, while you certainly can't control every review, you can be proactive in taking charge of your employer review site presence by regularly responding to reviews, leveraging employee advocates, and monitoring what candidates and employees are saying about your organisation online. In doing so, you'll improve your employer brand by creating a strong employer brand and a positive presence where it counts – and where it makes a difference.