The COVID-19 pandemic has shone a bright spotlight on company values and culture, separating employers who truly live up to their promises from those who rarely take action where it matters. And, employees are paying attention – as well as growing more critical of organisations that they're considering working for.
Meanwhile, according to the latest Engagement and Retention Report from Achievers Workforce Institute, 52% of currently employed respondents said they would hunt for a job in 2021 – up from 35% in 2020. But, why are more than half of employees looking for a new job this year? The short answer: They're disengaged. Whether from lack of recognition; poor diversity and inclusion practices; remote work burnout; or a feeling of disconnectedness, 71% more employees are disengaged in 2021 than 2020.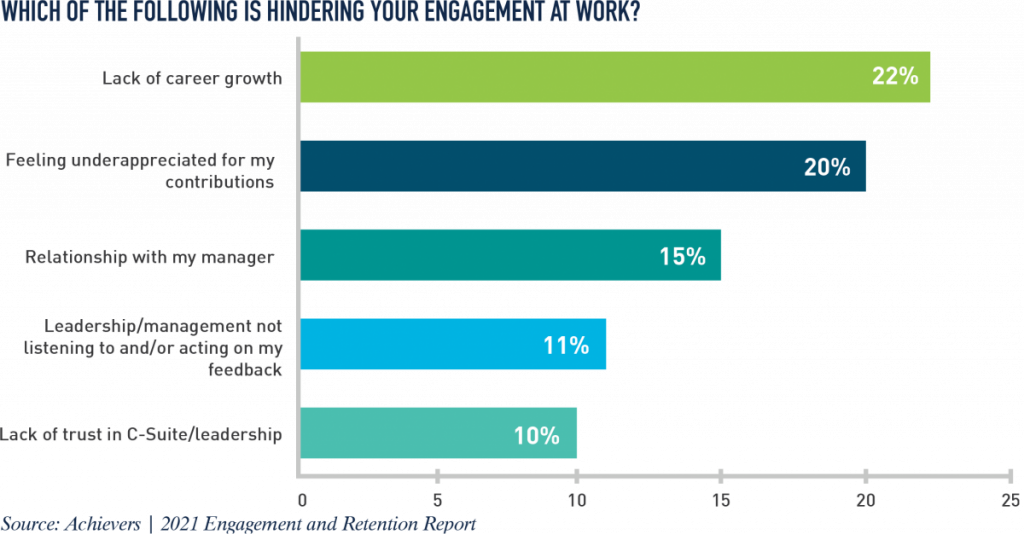 In fact, lack of career growth is the number one factor holding employees back from feeling engaged at work – making it a key area of opportunity for employers looking to remain competitive. Plus, as organisations are in the midst of the Great Rehire, talent acquisition teams face the challenge of filling a number of unexpected open roles – and high turnover exacerbates the issue. As such, maintaining a strong retention strategy is essential to avoid overloading these already lean teams.
In this article, we'll walk you through the benefits of learning and development programs; explain how to create an effective strategy to promote career growth; and share examples of ways that organisations are investing in their people.
Benefits of a Learning & Development Program
Launching an effective learning and development program typically requires investing in resources. However, when done right, the benefits far outweigh the costs. Specifically, not only does a strong learning and development program help employees in their career growth, but it can also improve the performance of an organisation as a whole. More precisely, some of the key benefits of implementing a learning and development program are:
Closing Skills Gaps
A training and development program is a great way to address skills gaps within an organisation – especially if your company had to scale down during the pandemic. But, by performing a skills audit, you'll have a better idea of which gaps exist in your organisation – which can then help you determine the areas that make the most sense for reskilling your workforce. Then, as a result of improved efficiency and more highly skilled employees, you'll also increase your ability to fill open roles from within.
Increasing Retention & Employee Satisfaction
Not only will employee performance improve, but retention and satisfaction will increase, as well. That's because employees feel genuinely cared for and valued when an employer shows a willingness to invest in employee growth and development. And, with an improved set of skills and knowledge, employees will be more likely to stick around at a company that believes in them and wants to see them succeed. This employer loyalty will then increase retention and decrease turnover rates.
Staying Competitive & Innovative
Consistent investment in your employees' growth and development will also help keep their thinking fresh and future-focused, thereby resulting in an overall culture of innovation at your organisation. Plus, top talent will also be more inclined to join an organisation with the perk of a strong learning and development program, as well as the opportunity to grow in a new role.
Improving Employer Brand
Organisations with effective development programs can also leverage them as a selling point to attract prospective candidates. Additionally, current employees will be more likely to leave positive reviews on employer review sites and spread the word within their networks that your organisation truly cares about employee career growth.
Saving Money
As skills gaps close and retention is improved, your organisation will also save money on sourcing and recruiting external candidates. Plus, a culture of innovation and employee satisfaction will keep your employer brand strong, as well, which has a significant effect on candidate attraction spend.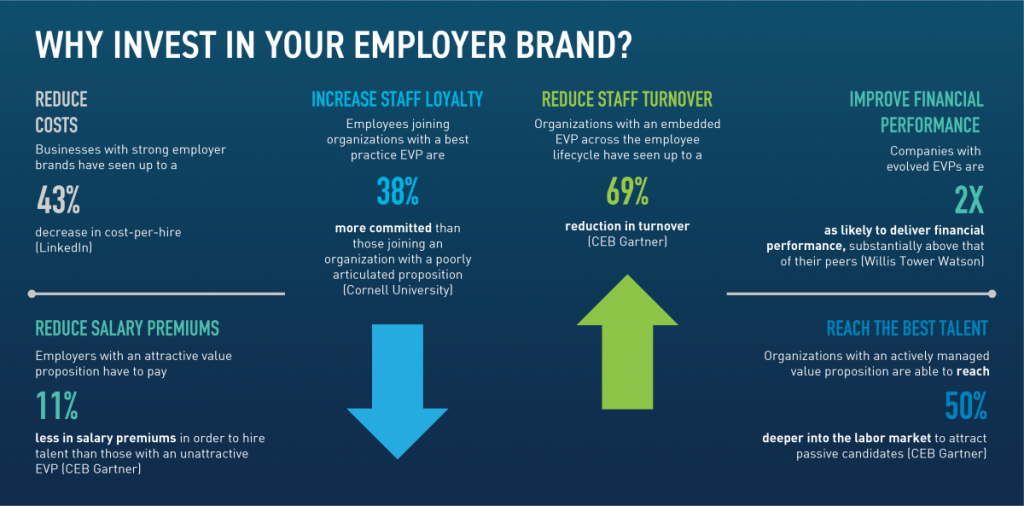 How to Create an Effective Learning & Development Program
Before you jump in to implementing a robust learning and development program, it's important to start by planning. Below is an overview of the key items to consider:
Establish Goals
The first step in planning for a learning and development program is to establish the goals of the program. This step is crucial because you'll refer back to these goals as you make decisions along the way. In particular, ask yourself:
What are the overall business goals that our organisation is trying to achieve?
How will the learning and development program align with our overall organisational goals?
What are the necessary steps needed to achieve these goals?
Identify Competencies
Competencies are a particular set of abilities, skills, and knowledge that affect an organisation's success and set it apart from competitors. Some examples of business competencies include:
Business acumen
Strategic agility
Market knowledge
Communication
Decision-making
Change leadership
Driving results
Collaboration and influence
After determining the key competencies your organisation wants to foster in alignment with your goals, you'll be able to better curate learning tracks to help instill these competencies into your employees.
Determine Strategy
There are a variety of types of learning and development programs, so choose the one that makes the most sense for your organisation. Your selection will depend on whether you want to teach the same skills to a large group of people at once, help employees improve on-the-job performance, or open training to everyone on their own schedule. Common types include:
Classroom/workshop style
Instructor-led training (ILT)
In-house/outsourced learning sessions
Interactive
On-the-job
Skills-based
Online
Incorporate Mentorship
A formal mentoring and coaching component can also complement your learning and development program. Specifically, pairing compatible employees with one another encourages teams to build relationships and learn from each other. To that end, it's important to match mentees with mentors whose areas of expertise match the former's desired area of growth to ensure that the relationship is mutually beneficial. As a result, less-experienced employees can be challenged and learn, while more seasoned employees can grow from the experience as a leader and mentor.
Encourage Engagement
In order to ensure the longevity of your learning and development program, it's essential to foster strong engagement. In particular, encourage managers to suggest training for employees and create a recognition system for employees who participate in trainings. Employees can also share completion certificates and comments about different trainings internally on platforms like Slack and Yammer. This strong sense of engagement will then encourage others to participate and, ultimately, lead to long-term success with your program.
Measure Results
Finally, despite the fact that it's often overlooked, it's extremely important to establish a way to measure the effectiveness of the learning and development program once it has gained some traction. First, determine whether those initial goals are being worked toward and met. If they're not, identify gaps where you may need to adjust strategy by considering the following questions:
Is employee productivity improving?
Are managers noticing improved employee engagement and satisfaction?
Are there any reductions in turnover time?
Are employees feeling more successful?
Has your employer brand presence improved externally?
Are you able to quantify results based on your overall goals?
Real Examples of How to Invest in Your People
The thought of creating a learning and development program from scratch may seem daunting, but it can be helpful to know that many organisations have found success through unique approaches to investing in their people. Here are some of the organisations leading the way in this important commitment to developing people:
Yelp
Yelp's transparent, supportive culture pushes its people to excel. The user-review company invests in: career development opportunities for its employees; constant constructive feedback; goal-focused, one-on-one sit-downs; team meetings; and thank you shout-outs for a job well done. All of these strategies reinforce each employee's achievements, ambitions and unique strengths.
Dun & Bradstreet
Dun & Bradstreet – a leading global provider of business decisioning data and analytics – supports top-down learning, in which team members are welcome to jump on their managers' calls. This enables them to learn about taking on more responsibility and also encourages them to pursue their own learning – whether by attending conferences or taking courses online.
WEX Inc.
At WEX, every day is an opportunity for employees to ask if there is a better way – and to act on promising ideas. Through mentorship, conferences and tuition reimbursement, there's always room to keep climbing the ladder at this financial technology company.
Amazon
Amazon committed $700 million to retrain 100,000 workers by 2025, thereby allowing employees of the online retailer and technology giant to move into more highly skilled jobs within the company or find new careers outside of Amazon. In addition, Amazon's Machine Learning University initiative helps workers who already have a background in technology and coding to gain skills in machine learning.
Verizon Communications Inc.
After closing most of its retail stores during the pandemic, Verizon retrained 20,000 employees to handle new jobs, which ranged from sales to customer service. This year, the American multinational telecommunications conglomerate plans to teach 100,000 employees new skills to prepare them for the demands of 5G, the next-generation wireless standard. Additionally, Verizon is partnering with Generation USA to help train 500,000 workers throughout the next decade for jobs of the future in communities across the country.
Levi Strauss & Co.
This year, Levi's launched its Machine Learning Bootcamp, an immersive training in coding, machine learning and agile ways of working that are uniquely designed for employees of the American clothing company. Participants will master an in-demand skillset and focus on learning full-time for two months – all paid for and encouraged by leadership.
Walmart
Walmart partners with Guild Education to offer employees a way to earn a high school or college degree for $1 per day. Employees of the American multinational retail corporation also get personalised coaching support from day one all the way through graduation.
PeopleScout
At PeopleScout, we invest in our people through two programs. First, our Global Mentorship Program supports and enriches the professional development of PeopleScout employees. Similarly, our engagement with LinkedIn Learning also allows employees to explore professional interests and develop skills both professionally and personally. And, finally, our global ideation platform encourages employees to submit their innovative ideas for improving our business – giving them direct opportunities to work with leadership to develop ideas into tangible solutions.
Developing the Next Generation of Talent
As a talent leader, you understand the importance of a total talent mix, which means leveraging both internal and external recruitment strategies. And, with higher turnover forecasted as we move out of the pandemic, there's no better time than now to start investing in your existing workforce. Plus, by constantly reskilling and upskilling your current team through a strong learning and development program, you'll not only attract top talent externally, but you'll also have loyal and dedicated employees who believe in your business and are prepared for the future of work – whatever challenges it may bring.