The 39,100 jobs added in January beat analyst expectations while the unemployment rate remained steady at 5.0% as more Australians joined the workforce. The job growth was entirely due to full-time employment. Wage growth continues to be slower than many would hope for in the current tight job market.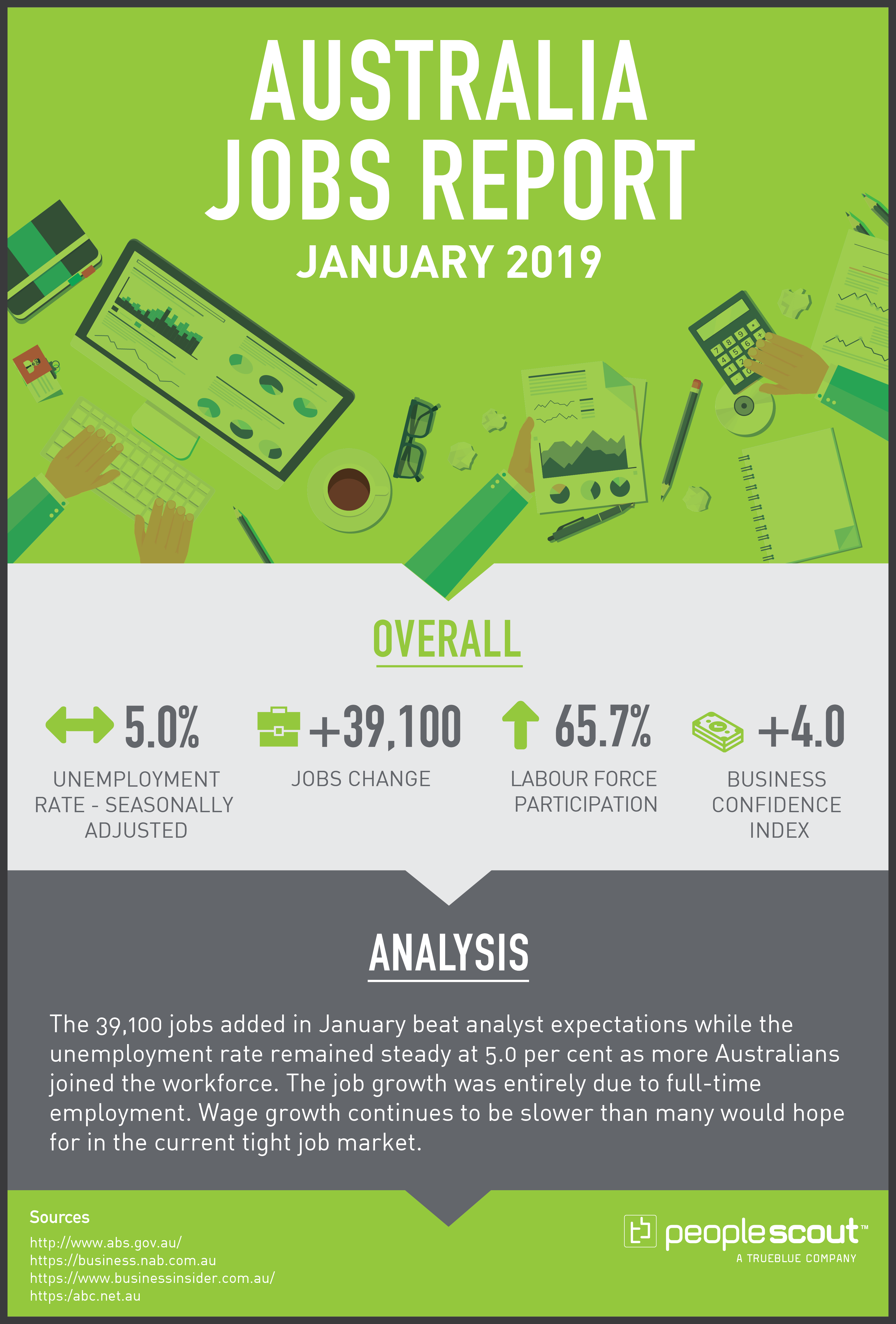 Numbers
39,100: The Australian economy added 39,100 jobs in January.
5.0%: The Australian unemployment remained at 5.0%.
65.7%: Labour force participation rose to 65.7%.
+4: The Business Confident Index rose to +4 in the latest NAB release.
Upside
The Australian Bureau of Statistics (ABS) announced that employment rose by 39,100 in seasonally adjusted terms, surpassing forecasts for a smaller increase of only 15,000. The job increase was entirely attributable to full-time positions. New South Wales was the clear winner in the nation's job market adding 47,200 jobs. The unemployment rate in New South Wales plunged to 3.9%. Since January 2018, full-time employment increased by 236,100, while part-time employment increased by 35,200. The unemployment rate remained unchanged because more Australians were attracted into the nation's workforce.

The report also showed that the number of women in Australia's workforce is at a record high and that the pay gap between men and women has fallen to a 20-year low.
Downside
The job gains in New South Wales were offset by more modest increases and losses in other states. Victoria had an increase of just 2,200 and Western Australia of only 800. The largest decrease was in Queensland which was down by 19,900 followed by South Australia with a decrease of 4,500.

The disparity in the employment situation among Australian states may indicate that "full employment" has not yet been truly achieved on a national level, as Business Insider Australia reports:

"While full employment may have been reached in New South Wales and Victoria, at 5 per cent, Ben Udy at Capital Economics says today's data suggests full employment still has yet to be reached nationally.

'We suspect that the natural rate of unemployment has declined in recent years and actually sits closer to 4.0 per cent,' he says. 'That would mean that the current unemployment rate of 5.0 per cent is still well above the natural rate.'

Given a plethora of downside risks facing the Australian economy this year, Udy is doubtful whether there'll be any acceleration in wage growth this year.

'Our view is that the housing downturn and weakness in the wider economy will mean that the unemployment rate may rise this year. If we're right, it's hard to see wage growth picking up pace anytime soon,' he says."
Unknown
Adding to the focus on the geographic disparities in Australia's economy, a new study reported by the Sydney Morning Herald highlights the challenges for some of Australia's young workers, with potential implications for the nation's economic future. The article states:

"Up to one-third of all young people in some of the nation's most marginal electorates are without a job or underemployed…with warnings many have skills that will be useless within a decade.

Compiled by the Foundation for Young Australians, the report points to parts of Queensland and Western Australia most at risk from a chronic mismatch between the jobs needs of young people and the skills they will take into the workforce.

It argues the economy is being short-changed $4.5 billion a year because so many young people are either outside the workforce or failing to get enough hours of employment every week.

Foundation chief executive Jan Owen said the mismatch between what young people learn and what they will need in future is one of the nation's most pressing economic challenges.

'To get to where we need by 2030, and avoid the economic and social crisis that is looming, we need a strong framework that delivers systemic change and that is based on evidence,' she said. 'Without an integrated approach we are likely to end up with even greater problems, with employers, education and training providers, workers and the national economy all losers.'"