Australia's unemployment rate remained at 5.2% in June with only 500 jobs added to the economy. Unemployment is at its highest level since August 2018. The Bureau of Statistics reports an increase of 21,100 persons in full-time employment and a decrease of 20,600 in part-time positions. The labour participation rate held steady at 66%.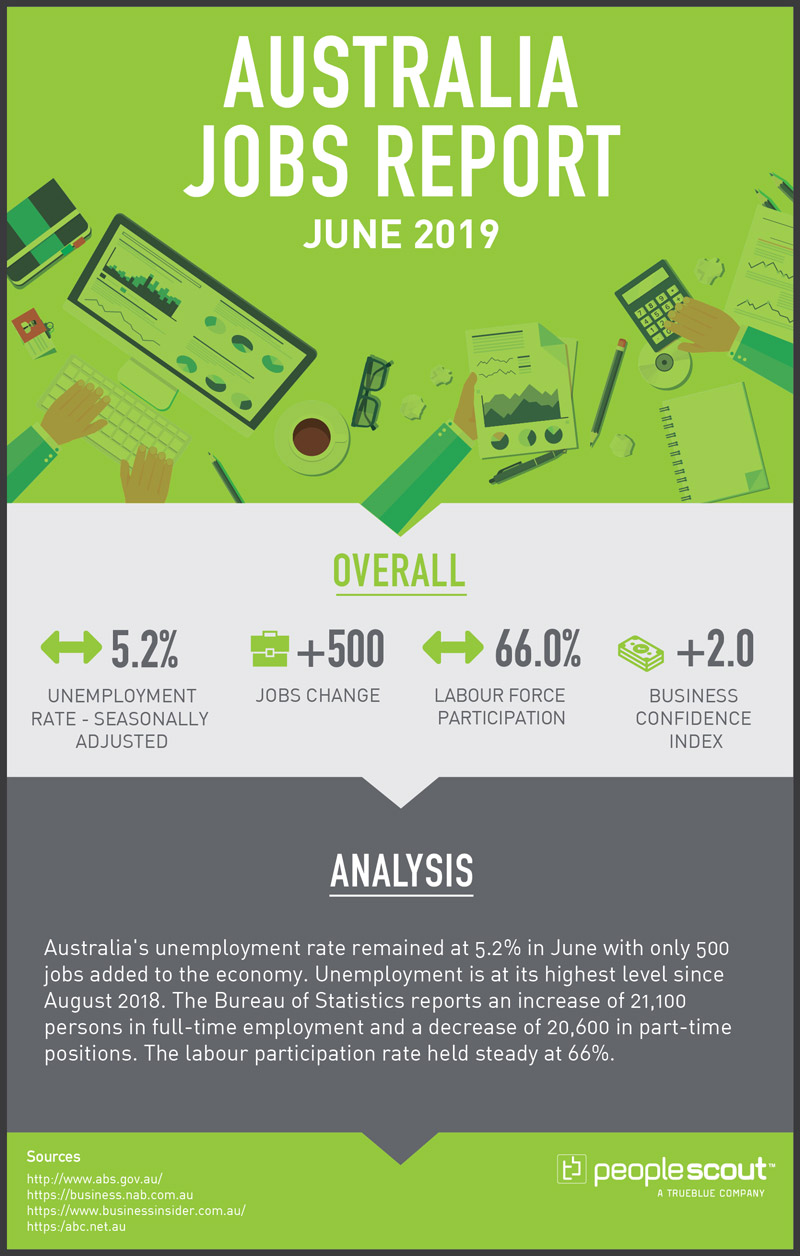 Numbers
500: The Australian economy added 500 jobs in June.
5.2%: The Australian unemployment rate remained at 5.2%.
66.0%: Labour force participation stayed at 66.0%.
+2: The Business Confident Index fell to +2 in the latest NAB release.
Upside
The headline of only 500 jobs added in June masks the good news that 21,100 full-time positions were created balanced by the loss of 20,600 part-time positions. At 66%, approximately two-thirds of the Australian population is now participating in the workforce, up 0.3 percentage points from a year ago.


The underemployment rate which includes those who are working part-time but want full-time employment and full-time workers whose jobs were unable to provide full-time work hours dropped 0.4 percentage points to 8.2% in June. Western Australia had a significant gain of 13,800 jobs.


Downside
Every state except Western Australia posted job losses in June. The largest decreases were in New South Wales down 17,400, followed by Queensland, which lost 8,200, South Australia, which decreased by 4,700, and Victoria, which lost 4,100. Unemployment was at 4.9% in February, and it has been higher ever since.


The lackluster job growth combined with other factors is causing some analysts, such as AMP Chief Economist Shane Oliver to forecast limited expansion of the labour market in the near term:


"We see a further slowdown in jobs growth over the next six months," Oliver said, citing a slowing in jobs ads, vacancies and hiring plans.


Job Opportunities and Candidates Not Aligned
A recent study by the global employment site Indeed reports that the titles of Australian job seekers were aligned with the jobs being posted only about 50% of the time and that Australia has a higher mismatch rate than the United States or the UK. This disparity was measured by comparing the titles on the active job seekers' resumes and the titles of the jobs that are posted. In contrast to the mismatch of nearly half of the Australian job seekers, the figures showed comparable mismatches in the UK of 40%, approximately one third in the United States and less than one third in Canada.


One reason for this significant gap in Australia is that the "job mix" has changed rapidly in recent years. Job mix can be defined as the job titles and the number of those holding these titles in a given economy.


Indeed's Asia Pacific Economist Calliam Pickering noted, "Australia's labour market is evolving, with the job mix 22% different in December 2018 than in January 2014."


Pickering warned that the evolution of Australia's job mix could result in skills shortages, which could harm both job seekers and employers:


"Businesses may lower expectations for skills or experience, while job seekers might accept positions that fail to fully utilise their skills or education," he said.


The report presents a scenario in which roughly half of Australian job seekers may not have the skills or experience to succeed in the current job market. This suggests that Australian employers cannot rely on their traditional recruitment strategies and should actively seek out expertise from organisations like recruitment process outsourcers to attract the right talent in a rapidly changing environment.