The 25,700 jobs added in March were in line with analyst expectations. The increase was made up entirely by full-time positions, which surged up 48,300. That was offset by a decrease of 22,600 part-time jobs. The unemployment rate fell to 5%, a slight increase from February's eight-year low of 4.9%, but it is due in an increase in Australians participating in the workforce.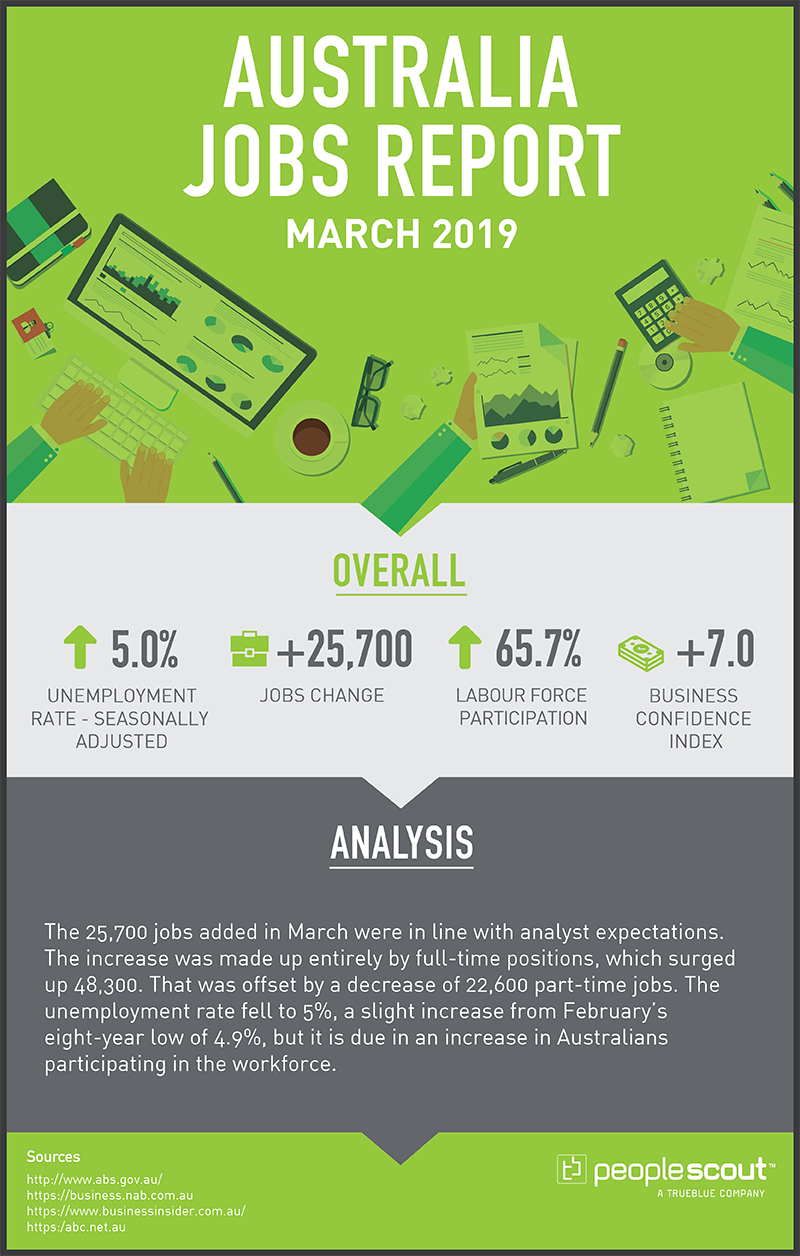 The Numbers
25,700: The Australian economy added 25,700 jobs in March.
5.0%: The Australian unemployment rate rose to 5.0%.
65.7%: Labour force participation rose to 65.7%.
+7: The Business Confidence Index increased to +7 in the latest NAB release.
Upside
Despite the increase in the unemployment rate, the March numbers are good news for the Australian economy. According to Reuters, analysts expected an increase in employment of just 12,000. The economy added more than double that number. The largest increases were in Queensland with 10,400 jobs and Victoria with 10,000.
Full-time employment rose by 48,300 in March, which was offset by a decrease of 22,600 in part-time jobs. Experts say these numbers point to a "fundamentally healthy" Australian economy.
Additionally, the reason for the increase in the unemployment rate is because more Australians entered the job market in March, bringing the labor participation rate up to 65.7%.
Downside
While the overall numbers are positive, experts say they notice some concerning trends. The under-employment rate, which measures the proportion of the workforce that have a job but would like to work more hours, increased to 8.2%, and labour market underutilisation, which is the broadest measure of labour market slack including both unemployed and underemployed workers, also increased to 13.2%.
Experts say that these figures suggest Australia will continue to experience sluggish wage growth. They also expect unemployment to increase further by the end of 2019.
Unknown
The new numbers raise questions about when the Reserve Bank of Australia will cut rates. The West Australian reports:
"Some private economists now believe the RBA will have to cut rates three times over the next 18 months – by 0.75 points – because nationwide inflation is tracking near a three-year low, wages are hardly rising, and key employment markets are struggling. That would put the official interest rate at 0.75% – historically unprecedented territory."

The West Australian