Returning to the office has taken on a new meaning. As we return to work, we now reflect that more than a year ago, the World Health Organization declared COVID-19 a global pandemic. So, in the years to come, we'll look back on how the pandemic's lasting effects have permanently reshaped the workplace and the world at large and how organization's handled the return to work.
So what does a return to work look like? Right now, the fog of the present obscures what our "new normal" will look like. As work becomes increasingly digitally enabled and uncertainty continues, many employers are wondering when or if they should return to the workplace, as well as how exactly to go about the process.

So, in this article, we'll cover what employees expect from employers during their return to work, how employers are leveraging the hybrid workforce model, and strategies that organizations should consider implementing while planning a safe return to the workplace.
The Return to Work: Employer Preparations Versus Employee Expectations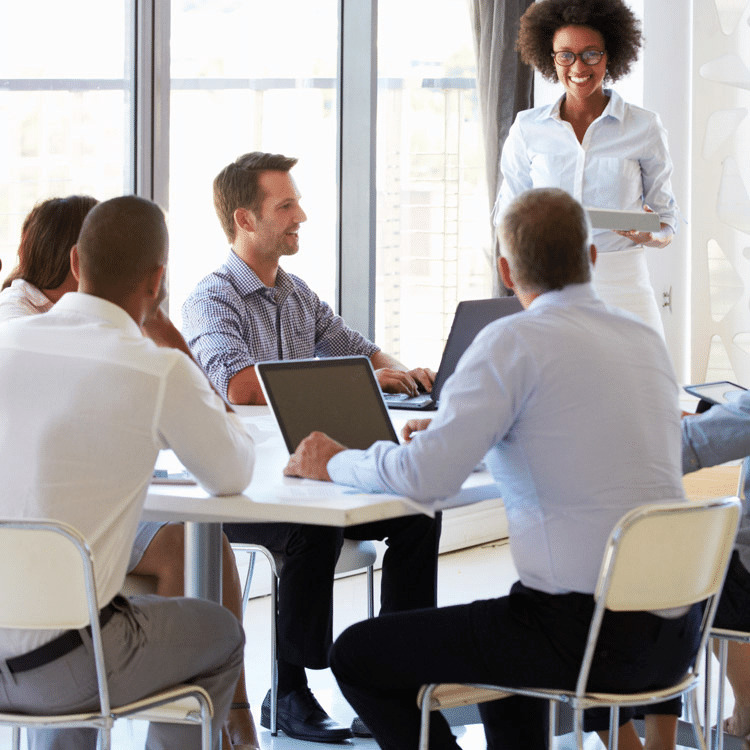 The pandemic has tested the employee and employer relationship. Employers have supported their workforce to an unprecedented degree in ways they hadn't before and under greater scrutiny. Meanwhile, workers have shown incredible resilience and adaptability as they worked to remain productive amidst the challenges of the pandemic.

Then, the development of vaccines raised confidence in returning to the workplace, but uncertainties remain about how to bring employees back safely. As such, employers should develop a return strategy that helps meet their business goals, while also addressing employee expectations and the need for increased flexibility.
According to PwC's U.S. Pulse Survey, employees reported that their preferred work arrangements were:

Interestingly, according to a report from The Conference Board, returning employees to the workplace is more important for U.S.-based employers. Specifically, the survey found that, among U.S. executives, 22% said returning employees to the workplace was a priority, while only 5% of their global counterparts agreed.
In the next section, we'll discuss how employers and employees can find common ground through a hybrid workplace model.
Returning to the Office: The Workforce of the Future is Hybrid
While both employees and employers have varying expectations on what a return should look like, one thing is clear: everyone expects more flexibility in the workplace, and a hybrid workplace model combines characteristics of remote and on-site work. In a hybrid workplace, some or all employees are free to choose where and when they work; they can also divide their time between working from home, a co-working space or their organization's office.

Granted, whether an employer can offer a hybrid workplace model depends on multiple considerations, most notably the industry and job type. While there are a variety of careers and roles that require employees to be on-site every day, Gartner estimates that nearly two-thirds of employees—mostly knowledge workers—can work remotely at least some of the time. They can fully focus on tasks without the noises and interruptions of the traditional workplace environment. They can choose to work when they're feeling most productive, whether that's in the middle of the night or first thing in the morning. When employees are happier, better rested and less stressed, they do better work.
Employee Wellbeing and Returning to the Office
Being free to work when and where they please has a significant positive influence on employee satisfaction. For instance, in a SurveyMonkey study, employees who worked remotely reported feeling happier than their colleagues who remained working in the office. However, for others, working remotely can be isolating and even distracting. Clearly, a hybrid workplace mitigates many of the downsides of pure remote work to create a professional space outside of the home for employees to collaborate and socialize with colleagues.
Lowered Costs
In a hybrid workplace, there's no need for row after row of assigned desks. Instead, once an organization knows how many employees will be in the office at any given time, employers can plan around new occupancy levels to cut down on the cost of rent and other expenses.
Safety
For extra safety returning to the office, a hybrid workplace also helps keep employees safe during the pandemic by: reducing the number of people in the workplace at any one given time; creating ample personal space; and making it easier to stay distanced. Flexible workers can also commute during off-peak times or work from home if they or their family are at particular risk.
Return to Work: The Hybrid Workforce in Action
For example, at IBM an employee's office attendance requirement is determined by work deliverables or the need for team collaboration. While at, Ford office workers are required to be on site for specific meetings or projects, otherwise they are permitted to work remotely. At Uber, Citigroup and H&R Block employees are required to be in the office two to three days per week.
Conversely, some employers place workers into tiers. For instance, Salesforce divided their hybrid workforce into three tiers: flex employees in the office one to three days per week, fully remote employees and office-based employees required to be in the office four to five days per week. Similarly, TIAA will group employee roles into four categories: fully remote, mostly remote, mostly on site, and fully on site.
Supporting Your Employees Return to Work
As expected, balancing the physical and emotional wellbeing of employees with the business needs of the employer has been a top challenge for talent and HR leaders throughout the COVID-19 pandemic. As an example, when PwC's COVID-19 Global CFO Pulse Survey asked, "Which of the following is your company planning to implement once you start to transition back to on-site work?", CFOs responded: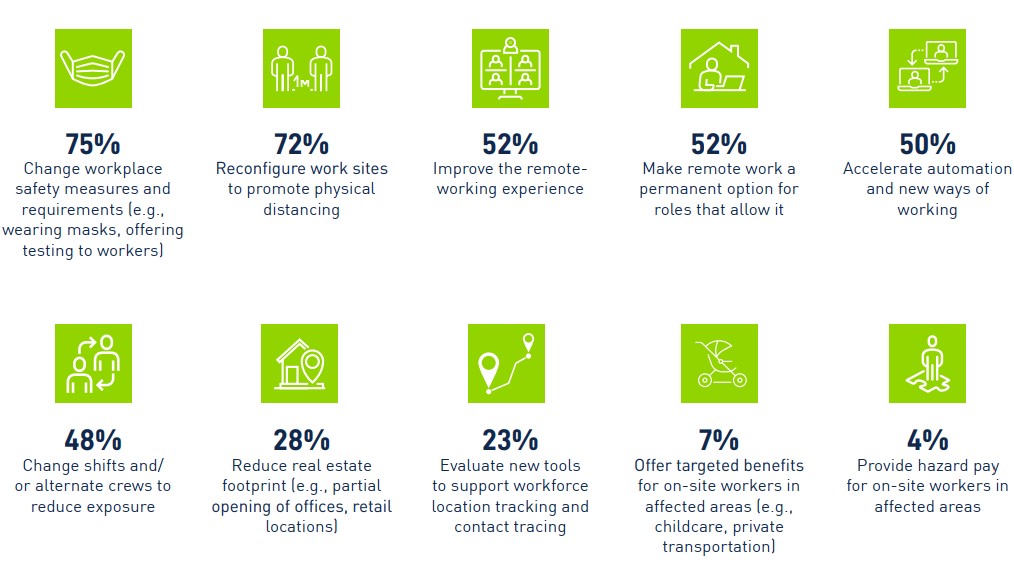 Mental Health and Workplace Stress
The COVID-19 pandemic has impacted everyone's mental health to some degree, so feelings of anxiety and hesitancy around returning to the workplace should are to be expected. Now more than ever, leaders and managers need to demonstrate compassion and understanding. Employers should invest in new mental health resources for employees in need. This can take the form of an Employee Assistance Program (EAP) or a referral to external organizations that can crisis intervention, counseling, or other assistance. Plus, easy access to and promotion of an employer's EAP can help provide many helpful resources for employee mental health in the workplace.
Flexible Paid Sick Policy
For workers with limited paid sick time, testing positive for COVID-19 comes with potential repercussions to their livelihood. To mitigate the potential loss of income, employer should consider implementing a flexible paid sick policy that offers employees additional paid time off if they do contract COVID-19. This may put employees, who would otherwise worry about the repercussions of getting sick, at ease. Paid sick leave policies should also communicate the importance of staying home when feeling unwell (even if unsure) while making it clear that doing so will not impact that employee negatively. For more information and guidance on sick leave policy and returning to work after
Create Clear and Consistent Communications
An action plan for returning to the workplace is only as effective as an organization's ability to clearly articulate the details of the plan to employees in a way that everyone understands. Moreover, communicating with employees about plans to reopen can help keep them engaged and provide a sense of normalcy. Employees will want to hear about their employers reopening plans, from social distancing to wearing personal protective equipment (PPE) as well as details about workplace layout and exactly who is required to return and when.
Returning to Work After COVID: Conclusion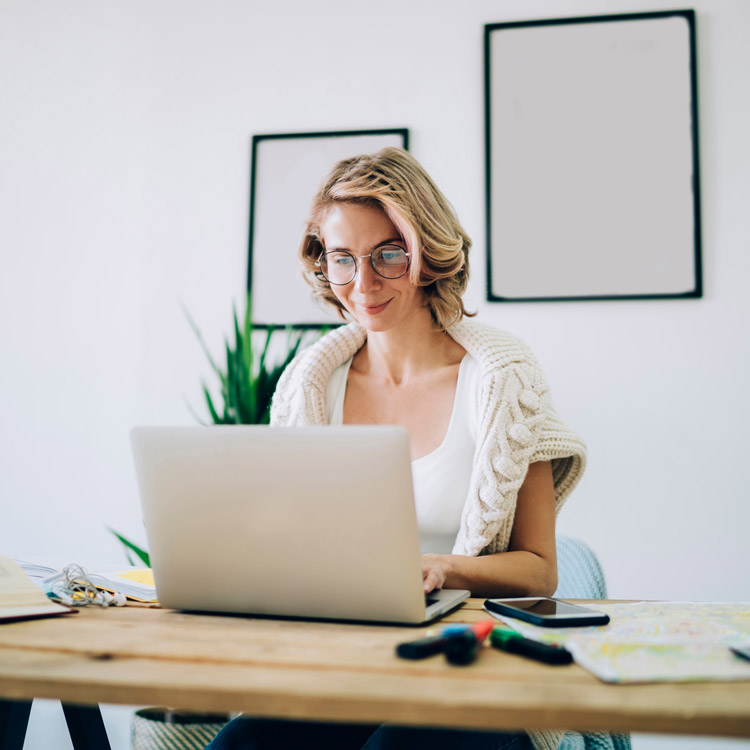 COVID-19 has taught us a lot about how we live and how we work. It has laid bare that our usual routines are not set in stone, and that alternative ways of working and building community within in organization are not just viable but can have a lasting impact on our happiness, productivity and wellbeing. The future of work is flexible, and more businesses are turning to the hybrid model as a way to achieve the flexibility their employees need. Going forward, the concept of the workplace in the minds of many employees and organizations will no longer be confined to a physical space, rather a hybrid mix of places and spaces where work can be accomplished.