PeopleScout has been providing RPO services to Lexis Nexis APAC since 2011, helping them to achieve critical business objectives including:
Delivering cost reduction through reduction in agency usage
Reducing turnover through improved quality of hire
Driving a more strategic recruitment function to lift capability
Delivering a high touch candidate care program ensuring positive brand impacts
Building talent pools for hard to fill roles including sales, operations and IT.
Defining and delivering a compelling EVP and employment brand
Scope of Services
The onsite PeopleScout team are responsible for the end-to-end management of the recruitment process. This includes candidate engagement and attraction strategies, strategic and innovative sourcing approaches, screening and assessment methodologies, Candidate and Hiring Manager engagement and satisfaction, management of the offer process and coordination of onboarding activities.
The team work in partnership with local and global HR teams to define the recruitment needs of the business and to meet those needs by successfully placing quality hires in a cost effective and efficient manner.
Results
The solution continues to achieve positive results for the business including:
Placement of all salaried roles
Solution extension to support hiring for Elsevier Australia
Radical cost reduction year on year with zero agency hires in many years
Delivery of strategic projects such as vacancy promotion via social media channels, hiring manager training & up skilling & online approval process
Increased % of passively sourced, referral & internal placements year on year
Launching the "You are the difference. Make it happen." EVP campaign for Australia & New Zealand doubling applications in the first three months of launch
Developing the "Be part of something bigger." global EVP campaign with the New York Lexis team.
Value Added Services
As part of this solution, PeopleScout has delivered a number of additional services in order to drive continuous improvement and innovation into the RPO solution. The following is a summary of some of the services that have been successfully implemented:
Implementation of Psychometric Testing Framework
Development and delivery of Hiring Manager Interview training
Evaluation and selection of assessment tools
Development and delivery of an Employee Value Proposition (EVP) for Australia and NZ with a creative campaign execution
Development and delivery of a global EVP (covering Europe, Asia, North America, South Africa and other regions) with a creative campaign
Exit Interviews
Review and development of a recruitment policy
Development and international alignment of recruitment metrics and reports
Implementation of a mobile-friendly careers website
Automation of the offer process
Automation of the approval process
Development and execution of a social media strategy
Delivery of competitor name generation and maps
Delivery of market mapping for hard to fill roles
Development of hard to fill talent pipelines
Development and promotion of the Employee Referral Program (ERP)
Example of an EVP campaign produced for LexisNexis Australia and New Zealand:
"You are the difference. Make it happen"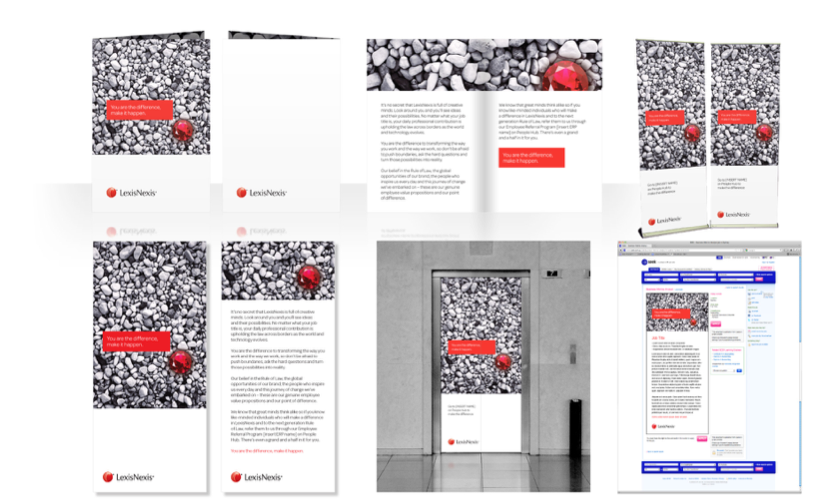 Example of a Global EVP campaign produced for LexisNexis New York: